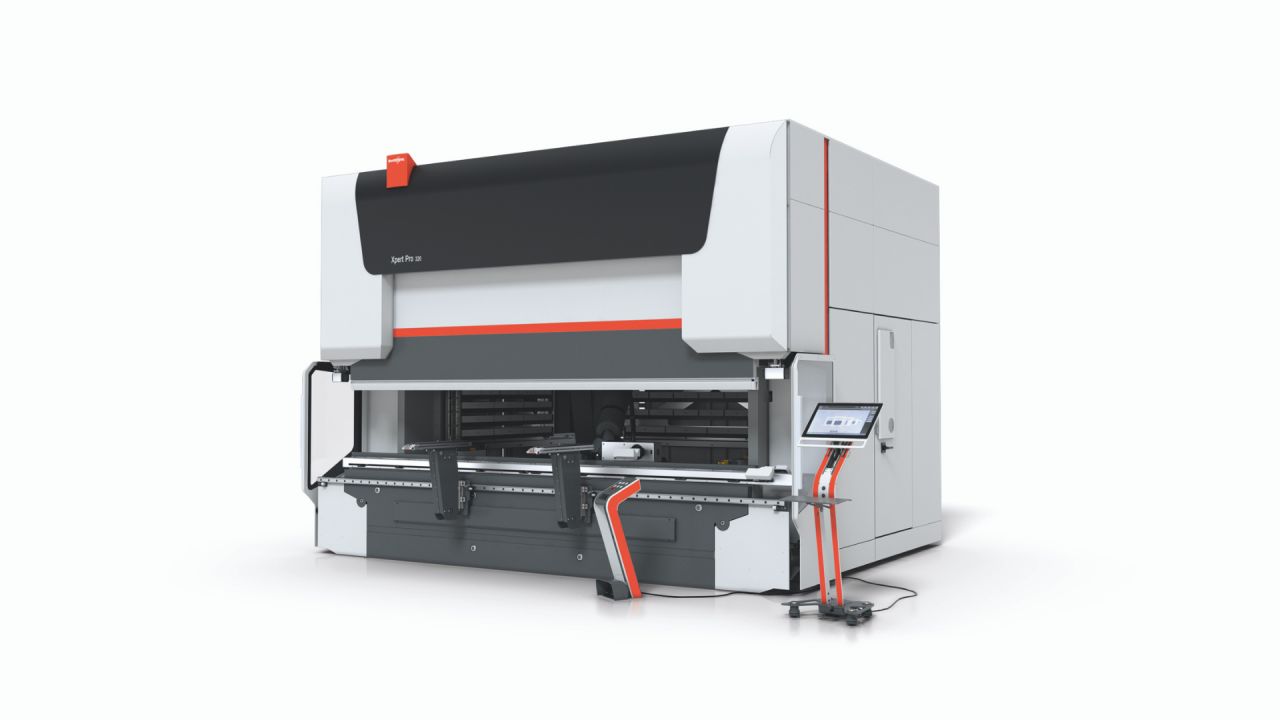 Bystronic Introduces New Modular Tool Changer for Xpert Pro Press Brakes
With the Modular Tool Changer, fabricators can increase available bending time by reducing press brake set-up time. The automatic tool changer for the high-end Xpert Pro press brake makes the bending process faster and more productive. Up to a 30% increase in available bending time can be realized with the Modular Tool Changer.
Bystronic introduces the Modular Tool Changer for the Xpert Pro Series Press Brake.
During manual press brake set-ups, operators must first locate and retrieve bending tools from the tool magazine, and then hoist them onto the machine. Besides strength, changing the tools also takes time. Press brake set-ups can demand up to 70 percent of the total bending process. Due to the trend towards smaller batch sizes, set-ups are being performed with higher frequency. Today, an operator often has to equip the machine with completely new tools after just a few units, in order to produce an entirely different part – and shortly thereafter, another. For job shops in particular, the set-up time is therefore an increasingly critical factor in the bending process.
The more frequent tooling setups are required, the more set-up time has an impact on the overall available bending time. Efficiencies are generated by not having to locate, retrieve, and return tools to the tooling racks. While the robot replaces tools and sets up new ones, the operator can concentrate on other tasks such as job tracking entries and moving raw and finished materials to and from the press brake area. The result is an increase of up to 30% in available bending time.
The Modular Tool Changer robot can lift tools with a weight of up to 55 lbs, and offers maximum application variety: Bottom tools of up to V120 (4.72 in.) in width, and top tools with a height of up to 350 mm (13.77 in.) can be used, which is a decisive advantage particularly in the production of boxes. Flexibility is further increased because the nimble robot can rotate the top tool 180 degrees. Adding new tools is automatic: The intelligent sensors automatically recognize new tools placed into the ram and table, and independently integrates them into the magazine with their positions stored in the rack.
Even cleaning the bending table is unnecessary. A compressed-air cleaning nozzle ensures that contaminants do not prevent the precise positioning of tools, or even damage bent parts. Furthermore, the automation solution preserves the tools: Whereas tools can be quickly scratched during manual handling, and therefore lose their precision, they can last longer with the Modular Tool Changer. The robot handles them carefully and stores them neatly in the magazine after each use. Thus, tools are neither damaged nor mixed up. The Modular Tool Changer can be adapted at any time to an Xpert Pro, given the proper machine specifications.