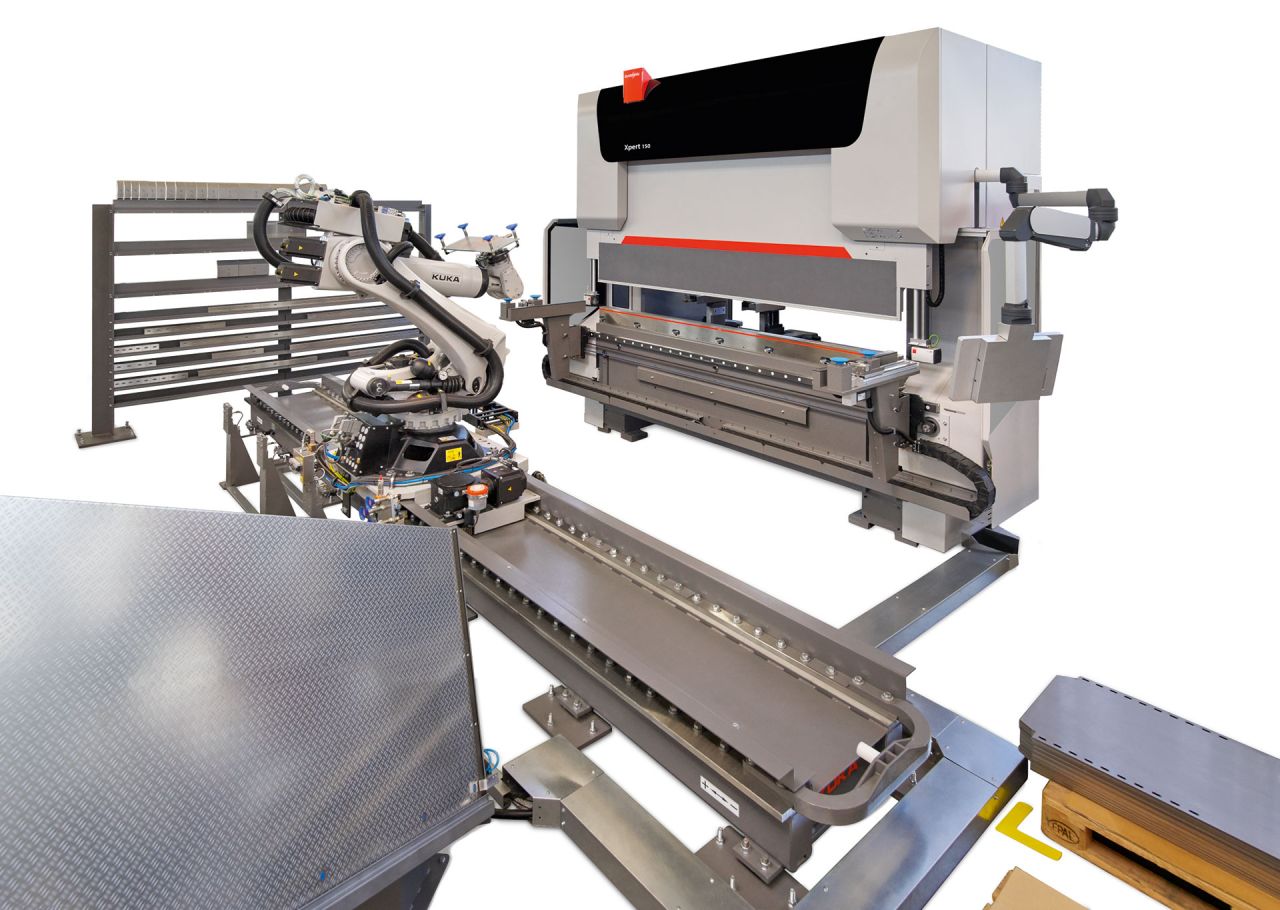 Bending Cell: Xpert Pro plus automation
Bystronic has enhanced the Xpert Pro press brake to create a fully automatic bending solution. The Bending Cell enables varying order situations to be mastered efficiently and without errors.
The sheet metal processing industry is under pressure: The production costs must be kept low without affecting quality. Simultaneously, the increasing variability of shapes, dimensions, and batch sizes demand an ever higher degree of flexibility. Companies that want to remain competitive have to increase the flexibility of their processes and above all, they also have to automate. Bystronic's Bending Cell achieves both at the same time.
The fully automated Bending Cell offers a maximum degree of efficiency and flexibility for both small and large manufacturing companies. The modular design allows the Bending Cell to be individually adapted to the company's requirements. It is just as ideally suited for the processing of long job lists as for changing orders – from small batch sizes right through to large series. In combination with the Xpert Pro press brake, the agile robot processes bending jobs fully automatically and without errors.
Save time thanks to automation
The Bending Cell reduces manual interventions to a minimum and makes the most of the available resources. The 7-axis robot not only autonomously changes the grippers and bending tools, it also knows how to process the job most efficiently: The intelligent software autonomously determines the optimal sequence of the bending tools for every job list. This saves up to 30 percent of the processing time.
After the initial offline programming, the Bending Cell operates completely autonomously. While the robot is bending, the operators can perform other tasks, for example the supply and removal of sheet metal and parts or operating a laser cutting system or welding system. In the meantime, the Bending Cell reliably implements the programming. Nasty surprised during the quality control are a thing of the past, because thanks to intelligent correction functions, the Bending Cell offers a very high degree of repetition accuracy: The first part is just as perfect as the thousandth.