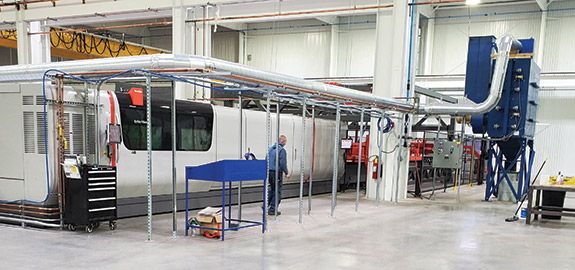 GO BIG! Longtime Bystronic Customer Upgrades to Large Format ByStar Fiber
McNeilus Steel of Morristown, Tennessee, partners with Bystronic, Inc., allowing the distributor to maximize large-format cutting.
Cutting parts out of extra-large sheets and plates has many benefits, including more efficient nesting and fewer touches throughout the process. However, moving these big, heavy pieces of metal is a challenge, requiring systems that have superior cutting capabilities plus top-notch material handling. For McNeilus Steel's Morristown, Tennessee, facility, a partnership with Hoffman Estates, Illinois-based Bystronic has allowed the distributor to maximize large-format cutting.
A longtime Bystronic customer, McNeilus employs 700 employees across four warehouses, with its headquarters in Dodge Center, Minnesota. The 100,000-square-foot Tennessee operation is the newest addition to the network.
"We hadn't expanded geographically in about 10 years," since opening a warehouse in Fond du Lac, Wisconsin, in 2009, says David Graham, general manager of the Morristown location. "Because the steel industry, including many new mills and a lot of our current vendors, is starting to congregate in the Southeast, it made sense to have a location in East Tennessee."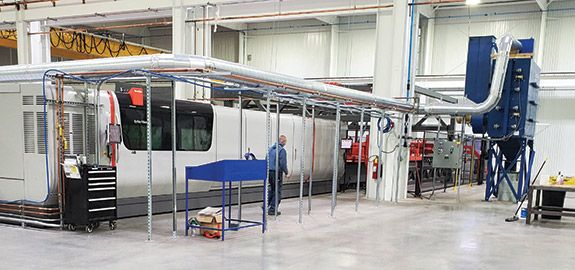 First on the floor
The Tennessee operation is anchored by a Bystronic ByStar Fiber 8025 large-format cutting system—the first piece of equipment installed at the greenfield site—and the majority of the laser's current work is cutting heavy plate.
Bystronic introduced the large-format ByStar Fiber 6225 and 8025 in June 2019, and the machines can be equipped with laser outputs from 3 to 10 kilowatts, depending on the user's requirements.
"We deal with plate sizes that are 2,000 pounds apiece," Graham says. "The ByStar Fiber 8025 has a 9-foot by 27-foot bed. This provides us with more flexibility in sourcing, meaning we can buy bigger sizes, which is always more efficient. The bigger the plate, the fewer times you have to handle it, and touches matter a lot in our business.
"In addition, the large cutting envelope allows us to maximize yield," Graham continues. Large metal sheets allow bigger parts to be cut nestled in with diverse small parts, without requiring the machine to interrupt the laser cutting process during long cutting paths. And the ByStar Fiber 8025 is equipped with BySoft CAM software that supports users with smart nesting procedures that enable optimal cutting plans to be created.
"Some of the parts we are cutting are large, small, oddly shaped, so if we can orient a part on the plate in our nest in a certain way, we can achieve better yield at the end of the day, as well as a better cut condition with fewer burrs," Graham notes. "If we have to handle and turn a 1,000-pound part upside down to grind it, we're getting into a situation that we really don't want to be in."
Cutting parts is easy, though, when compared with the task of moving 1-ton plates on and off the laser table. "The material handling is very important to us," Graham says. "It's the most beneficial feature of the system. Without the automation, it would be very difficult to move the material fast enough to keep up with the laser's cutting speeds."
He notes that because of the size of the material, a typical tower "wouldn't be appropriate," so Bystronic designed a system specifically to handle McNeilus' large plates and sheets.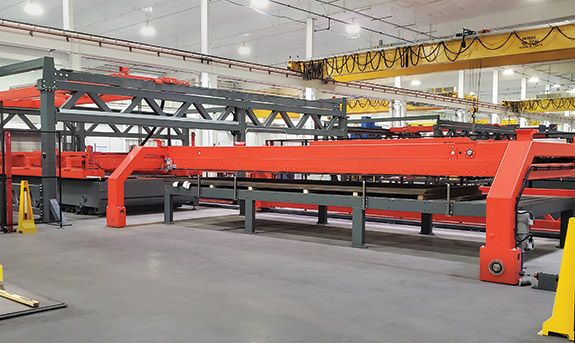 Seamless transitions
"We try to focus on parts and services that are a little bit outside of the norm," Graham says. "Over the years, Bystronic has given us a lot of tools to be able to do that, from fiber and CO2 lasers to brake presses and material handling solutions. They produce a great product, they're innovative and their support is outstanding."
Like many other metals processors, McNeilus is working its way through the unprecedented challenges caused by the COVID-19 pandemic, and it found an unexpected silver lining from its decade-plus of buying Bystronic equipment.
"With COVID-19, we've had some pretty rapid expansion and contraction of customers," companies that had shut down for two months or had just come out of shutdown and were itching to make up the time, Graham says. As a result, McNeilus has had to flex, moving people across its network to where the need is greatest. Because of the common software and controls on the Bystronic machines, employees can easily pick up in another location and get to work.
"We brought a group of folks from Dodge Center to Tennessee for a week," Graham says. "They walked in the door, and 20 minutes later, they're working." Similarly, when employees needed to temporarily relocate to Dodge Center, they jumped in and started processing parts, moving from laser to brake with ease.
"We don't have a brake press here [in Tennessee]," Graham says. "But we trained two employees on how to run the Bystronic Xpert in about four hours. We also sent our 8025 operator up there, and he took a 12-hour shift every day to run the exact same machine, [and the] exact same material."
Modern Metals Magazine -January 2021
For McNeilus Steel of Morristown, TN