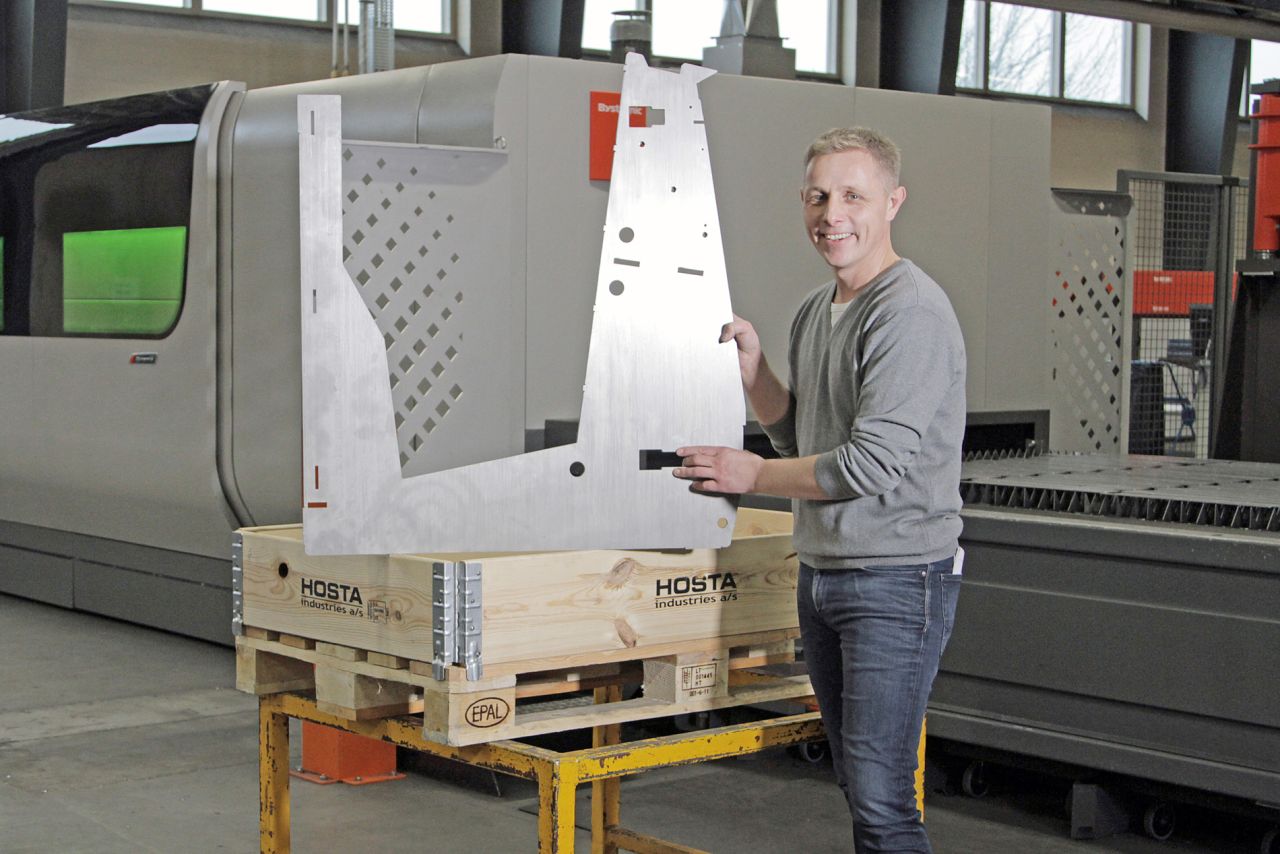 10 kilowatts: Our customers report
Highest cutting speeds, a wide processing spectrum and a strong overall performance. These are reasons why users choose the 10 kilowatt ByStar Fiber from Bystronic. Here, customers report on their experiences with the fiber laser cutting system.
Hosta Industries A/S
Hosta Industries is headquartered in Hjallerup (Denmark). As a sheet metal processing job shop, they manufacture for customers in Denmark, Sweden and Norway.The family-owned business focuses on high quality, fast production processes and cost-optimized manufacturing. They achieve this by using state-of-the-art technologies.
Since November 2016, Hosta Industries has been covering its laser cutting needs with a 10 kilowatt ByStar Fiber 3015. Particularly for cutting jobs that require sheet metal products with a thickness between 1 and 12 millimeters to be processed quickly and with a high quality, the high-end laser cutting system from Bystronic supplements the company's modern machine portfolio.
FC Laser Ltd
FC Laser Ltd is a British laser cutting specialist that focuses on offering flexible solutions for laser-cut and formed metal products. The company's founder, Danny Fantom, has successfully established his company as a market leader and has been relying on manufacturing solutions from Bystronic from the onset.
FC Laser Ltd has been operating a ByStar Fiber 3015 for laser cutting since February 2017. This 10 kilowatt laser system has expanded their existing processing range with higher cutting speeds and a broad processing spectrum. Due to its successful implementation, two additional 10 kilowatt ByStar Fiber laser systems will be installed by January 2018. This investment will allow FC Laser Ltd to respond to growing order levels.
Kurt Forster AG
Kurt Forster AG is a successful family-owned company in Berneck, Switzerland. As a sheet metal processing job shop, the company relies on a wide processing spectrum and fast production processes. The 10 kilowatt ByStar Fiber 3015 plays a central role in this strategy. Bystronic's fiber laser cutting system has been in operation here since the summer of 2017. The company upgraded the cutting system with the ByTrans Extended 3015 automated loading and unloading system.
This combination of a 10 kilowatt fiber laser and automation has enabled Kurt Forster AG to increase its process speed in the field of laser cutting by up to a factor of four. Moreover, the ByStar Fiber opens up an expanded range of materials. It covers mild steel, stainless steel and aluminum, right through to non-ferrous metals such as copper and brass. And all this in sheet thicknesses from 0.8 to 30 millimeters.
Metalltechnik Göbel GmbH
A modern production environment with fast workflows and a high processing quality. This is the secret to the success of Metalltechnik Göbel GmbH in Dippoldiswalde, Germany. To achieve this, the job shop relies on the 10 kilowatt laser performance of a ByStar Fiber 4020 and the matching automation solution ByTrans Extended 4020. The high-performance package from Bystronic increases the company's production speed and diversity. A decisive advantage in the competition for customer orders. Another real advantage comes from the comparably low operating costs of the automated fiber laser in comparison to conventional CO2 laser cutting systems.
When required, Metalltechnik Göbel GmbH also uses the 4020 format ByStar Fiber to process sheet metal parts that are larger than the standard 3015 format. This enables the company to cater for special customer requests. However, the 4020 format is also excellently suited for small parts. Four-by-two-meter metal sheets allow these parts to be nested optimally. This reduces the material offcuts of valuable raw materials.