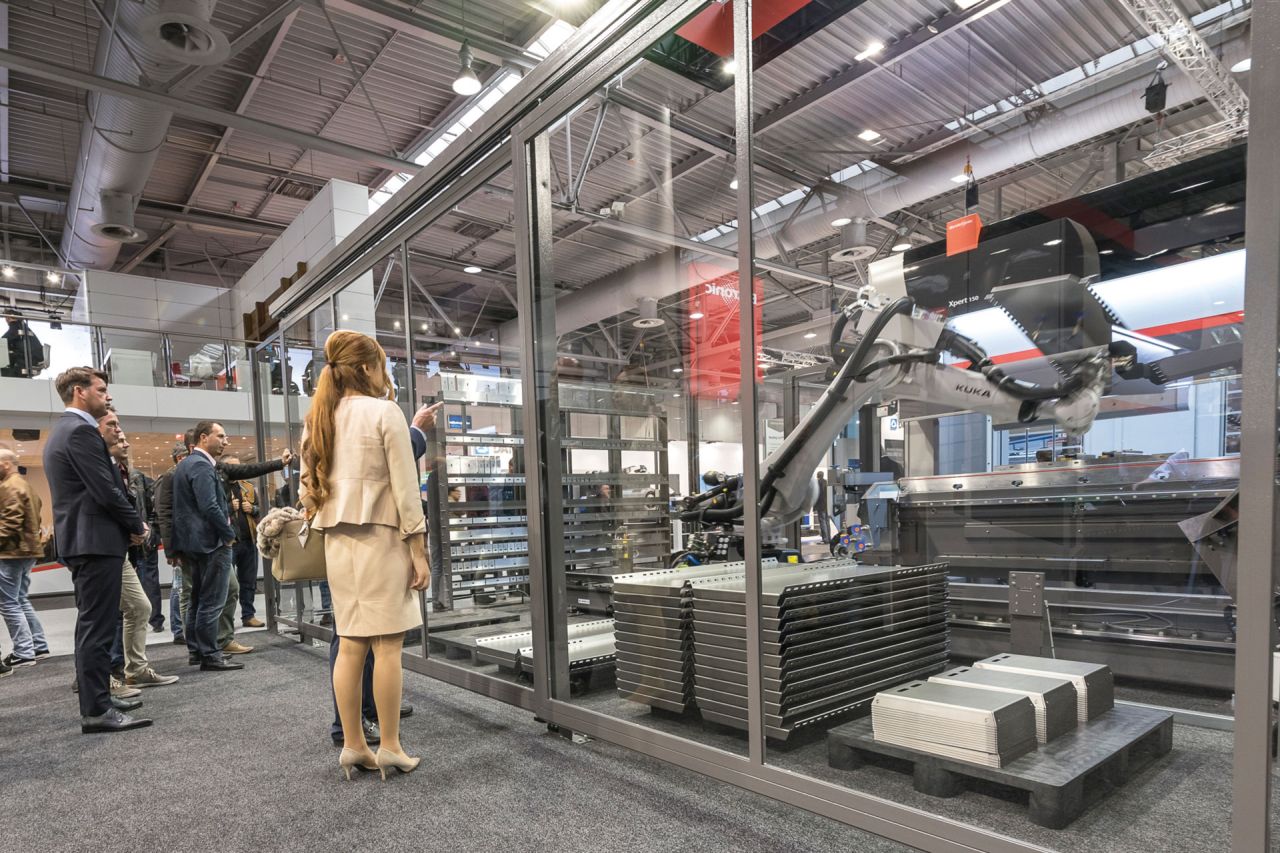 EuroBLECH 2018: World Class Manufacturing
With new solutions for sheet metal processing, Bystronic takes you to the top of the competition. Discover live, the very latest industry trends and experience our innovations for your manufacturing environment. Visit Bystronic at EuroBLECH 2018 in Hanover.
What are the benefits of intelligent automation solutions for your laser cutting and bending processes? In what direction is sheet metal processing developing thanks to the possibilities of digital networking? What opportunities are new software and service solutions opening up for more in-depth process optimization and even more efficient production management? And how can you make meaningful use of flexible cutting and bending systems to respond to changing job situations whenever necessary? The answers to all these questions lead to new solutions that enable you to manufacture your products faster, more cost-effective, and more intelligently than ever before.
Integrated automation: The next stage of automation will be cross-process systems that act intelligently. Automation that goes beyond just the individual process step. This allows a continuous production flow to be created. This is the highest level of productivity that your production can achieve.
Networked production: Machines, individual process steps, and production parts merge into a network of intelligent components. Within a networked production environment, these components have the capability to mutually coordinate and optimize each other. These are the foundations for new and even more efficient value creation in your sheet metal processing operations.
Flexible system solutions: Until now, there was always a trade-off between fast and flexible. Now, the latest generation of our cutting and bending systems is expanding the rules of the game. In future, you will be able to produce small series or individual mass-produced products at conditions similar to standardized high-volume series.
Smart services: With increasing networking and automation, process reliability and preventive maintenance of all the integrated systems is becoming more important than ever. Upstream and downstream manufacturing steps are interdependent. New service solutions help you increase the efficiency and process quality of your production.
All this is packed into "World Class Manufacturing": Visions are the basis for innovations that enable us to sustainably optimize your process landscape. Discover the new opportunities. Visit Bystronic at EuroBLECH.
What: Laser cutting, tube and profile processing, bending, automation, software, services
When: October 23 (Tuesday) to October 26 (Friday), 2018
Where: EuroBLECH, Hanover (Germany), Hall 12, Booth B66