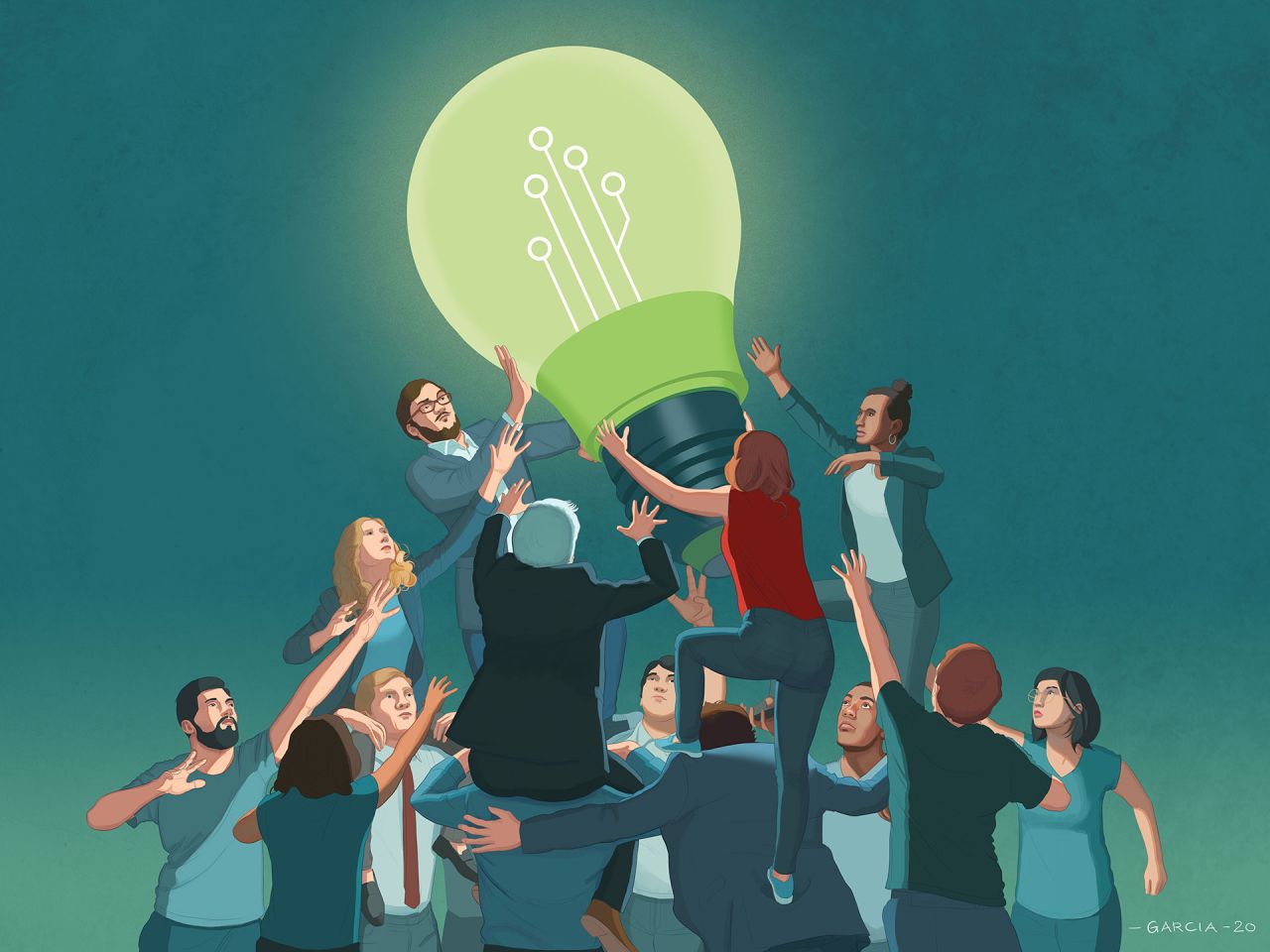 Out of isolation, into the network
Industrial companies traditionally develop innovations on their own. However, more openness is needed to take advantage of the opportunities offered by digitization. Together with partners, Bystronic develops networked solutions for sheet metal processors. Because only those who look beyond the horizon can realize the vision of the Smart Factory.
Innovations are hatched in privacy. What applied to the inventors of the 19th and 20th century is still true for large parts of industry today. As a general rule, external players are categorically excluded from research and development: Companies develop products in secrecy and protect them with patents before launching them on the market. Trade secrets are sacrosanct. The aim is to be the first to offer an innovation and to remain the only one for as long as possible.
This internal focus of research and development led to the blind assumption that all the know-how must come from inside the company. At Bystronic, we believe that the time has come to challenge this belief. Because we had to face the fact that we could no longer fulfill the needs of our customers single-handedly. Increasingly, sheet metal processing companies are no longer looking for individual products but for integrated solutions. And we are only able to offer these if we cooperate with external partners.
Innovation thanks to collaboration
Companies that want to implement the vision of the smart factory have no alternative but to open up: With the networking of the supply chain, the ecosystem surrounding one's own organization gains in importance. This is why Bystronic is increasingly teaming up with other companies, including suppliers and customers, but also with competitors. We share our know-how and data with them in order to collaboratively develop the best solutions.
When developing hardware and software, one of Bystronic's main principles is close collaboration with customers. They provide us with input on how we can continue to enhance our systems. Among other things, we organize workshops with customers at an early stage of the development process in order to incorporate their requirements, expectations, and suggestions for improvement.
Our other principle is to maintain strategic partnerships with our most important suppliers: For the further development of fiber laser technology, we have teamed up with IPG Photonics. And to drive forward the networking of our customers' supply chains, we forged a partnership with the software developer Kurago.
A new mindset is required
The digital transformation is forcing industrial companies like ours to re-examine their business models and to gear their mindset towards digital solutions. Experience has taught us that this does not happen overnight. The biggest obstacle is the traditional corporate culture, which clings to the individual product, annual development cycles, and the exclusion of external know-how.
The opposite of this traditional corporate culture is what you could call a digital corporate culture: An open approach that relies on networked thinking and collaborative action, develops solutions incrementally, and adapts quickly to changes in the market environment. This requires a shift in how we think. What is required is a mindset that can leverage the company's strengths to create digital business models.
The necessary cultural change can be kick-started using practice-oriented development programs. Within the framework of a change initiative, we have reassessed the structures and processes at Bystronic. In order to ensure that the change is actually put into practice, we ensured that the initiative had a firm foundation in our everyday working life: Based on concrete examples taken from practice, our teams held workshops to reflect on internal and external cooperation. This is how we succeeded in breaking away from old patterns of thinking and behavior.
Greater agility on the market
The benefits of a culture that is oriented towards digital solutions are plain to see. Organizations with a high level of digital maturity are able to navigate the market with greater agility and be more responsive to their customers' needs. With their beta releases, the software industry is a prime example of how this can work: Products do not already have to be absolutely perfect when they are launched on the market. Customers are prepared to help enhance them, provided they are convinced of the benefits from the outset. Rapid market entry and continuous further development should also be the goal in our industry.
A corporate culture that makes use of digital tools also facilitates employer marketing, because progressive companies attract the brightest talents. Many of these already have the right mindset and thus help drive forward the cultural change: They not only orient themselves towards the company, but also towards the wider world. They take risks and are not afraid of making mistakes. They attach more importance to measures than to planning, and they prioritize collective success over individual achievements.
Employees who have embraced these values and geared their mindset towards digital solutions are the most important prerequisite for our ability to be innovative in the future. They are the people who establish the network around our organization and who work alongside internal and external partners to find the best solutions for our clients.
Networking without mindcuffs
The road to the smart factory is a long one. This vision cannot be realized in one fell swoop; rather, the change must be tackled in stages. This is why Bystronic offers its customers the opportunity to advance step by step. This requires flexible and scalable solutions that can be expanded successively. Achieving this goal also requires seamless material and data flows. Consequently, we do not hesitate to integrate systems from third-party manufacturers.
We are convinced that in the future, innovation will be a question of attitude. Industrial companies have a choice: Either they seclude themselves and emerge from the digitalization as losers. Or they open up and work together with partners to seize the opportunities of networking.