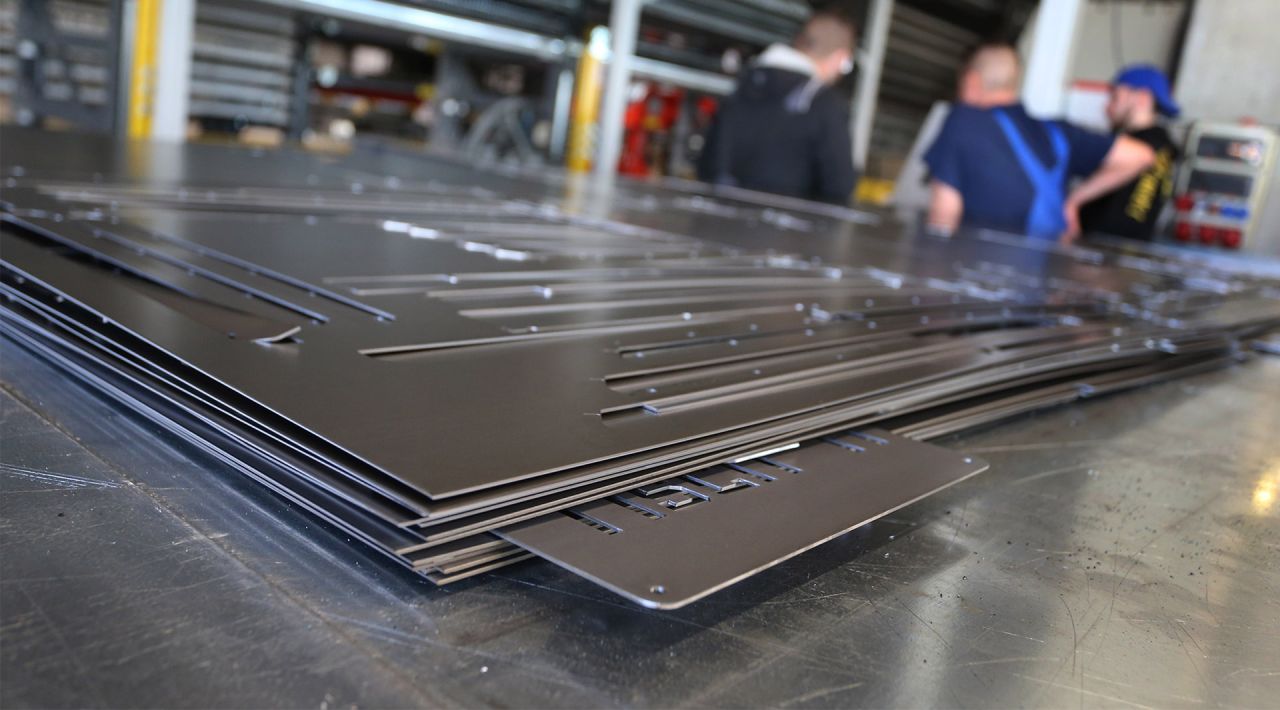 Sustainable manufacturing thanks to fiber lasers and automation
A fiber laser cutting system, a matching automation solution, and innovative software enable companies to increase their productivity while simultaneously saving energy. The Haslach Group, based in the Allgäu region in Germany, shows how this can be done.
Twice the output for the cutting process with the same electricity consumption – fiber lasers are considerably more efficient than CO2 lasers. This saves resources while simultaneously increasing output. And this is why the transition was an obvious step for the Haslach Group: "We want to be able to fulfill our customers' increasing demand and we have found a reliable partner with Bystronic," says Managing Director Marita Haslach-Dann.
In order to meet the growing demand while simultaneously saving resources, two ByStar Fiber 4020 fiber laser cutting systems have been in operation in the Haslach Group's production halls since December 2018. Each equipped with a laser output of six kilowatts, they can cut metal sheets up to a size of four by two meters – ideal for Haslach, a medium-sized company well-known for its ability to process large-format metal sheets. "There is no other sheet metal processing company in southern Germany that can handle parts as large as we can," Marita Haslach-Dann says.
Wide range of applications
On the outside, the ByStar Fiber 4020 stands out thanks to its attractive design. On the inside, there is patented laser technology: a cutting head developed by Bystronic that precisely adapts the focal point of the laser beam to match the sheet thickness and material. This enables the fiber laser cutting system to consistently achieve the optimal processing quality in spite of varying sheet metal thicknesses and materials.
The ByStar Fiber 4020 cuts up to 30 millimeter thick steel and guarantees clean cutting edges in a wide range of sheet metal qualities. This makes it possible to cut intricate contours in the best possible quality. Complex geometries can also be implemented with ease. Moreover, the range of applications is broader in comparison to CO2 laser cutting machines: The new systems can handle a wide variety of sheet thicknesses and an extensive range of materials, including non-ferrous metals, such as brass and copper. The Haslach Group benefits from this added flexibility, because many of its customers have very specific requirements.
Customized automation solution
In order to ensure the rapid loading and unloading of the fast machines, the Haslach Group uses a matching automation solution on both of its fiber laser cutting systems: the ByTrans Cross 4020. "An ideal match," Marita Haslach-Dann explains. "The automation helps us to work more ergonomically and to increase our throughput. This enables us to produce efficiently." In spite of the fully automated material supply, operators can manually feed in sheets whenever required.
The inflow and outflow of materials is connected to a high-bay warehouse. The Haslach Group had specified an automated warehouse system, but only one supplier was able to meet their specific demands: "Bystronic rapidly implemented a customized solution for us," Marita Haslach-Dann says. It was the overall package of cutting systems, automation, software, and service that convinced her.
Software brings transparency to manufacturing
Cutting plans are created using the Bystronic BySoft 7 software, where programmers work in a 3D CAD environment. The 3D models provide a tangible idea of the parts that are to be produced. The BySoft 7 software automatically selects the best possible cutting technology and helps optimize cutting processes. It also ensures optimal use of the raw sheets based on the highly sophisticated nesting of parts.
Thanks to the touch screen, operators always maintain an overview: Production and machine data are retrieved in real time. Operation is so user-friendly that one employee can supervise several machines at the same time. "With the previous systems, we had one operator for every machine," says Marita Haslach-Dann. The staff have been assigned to new tasks because the high cutting speed of the ByStar Fiber 4020 results in the output of more cut parts that require sorting.
In order to ensure all employees have an overview of the production process, the Haslach Group also relies on planning software from Bystronic, the Plant Manager. The programmer is enthusiastic: "We can always see at what capacity the machines are running," he explains. "This allows us to flexibly coordinate individual steps of the workflow to accommodate short-term change requests." Virtually real-time access to all the relevant production and machine data makes it possible to adapt production processes to be able to accept last-minute customer orders.
Doubled productivity
Programming and planning software has transformed production into a digitally networked manufacturing landscape. Employees can constantly monitor the flow of information and quickly implement plans. "Our path from the incoming order to the end product has become faster and more efficient," Marita Haslach-Dann explains. The Haslach Group's head of the cutting department confirms this: "We have successfully increased productivity by 50 to 60 percent when processing thin sheet metal." The results are impressive: The perfect cutting edges satisfy even the most demanding customers.