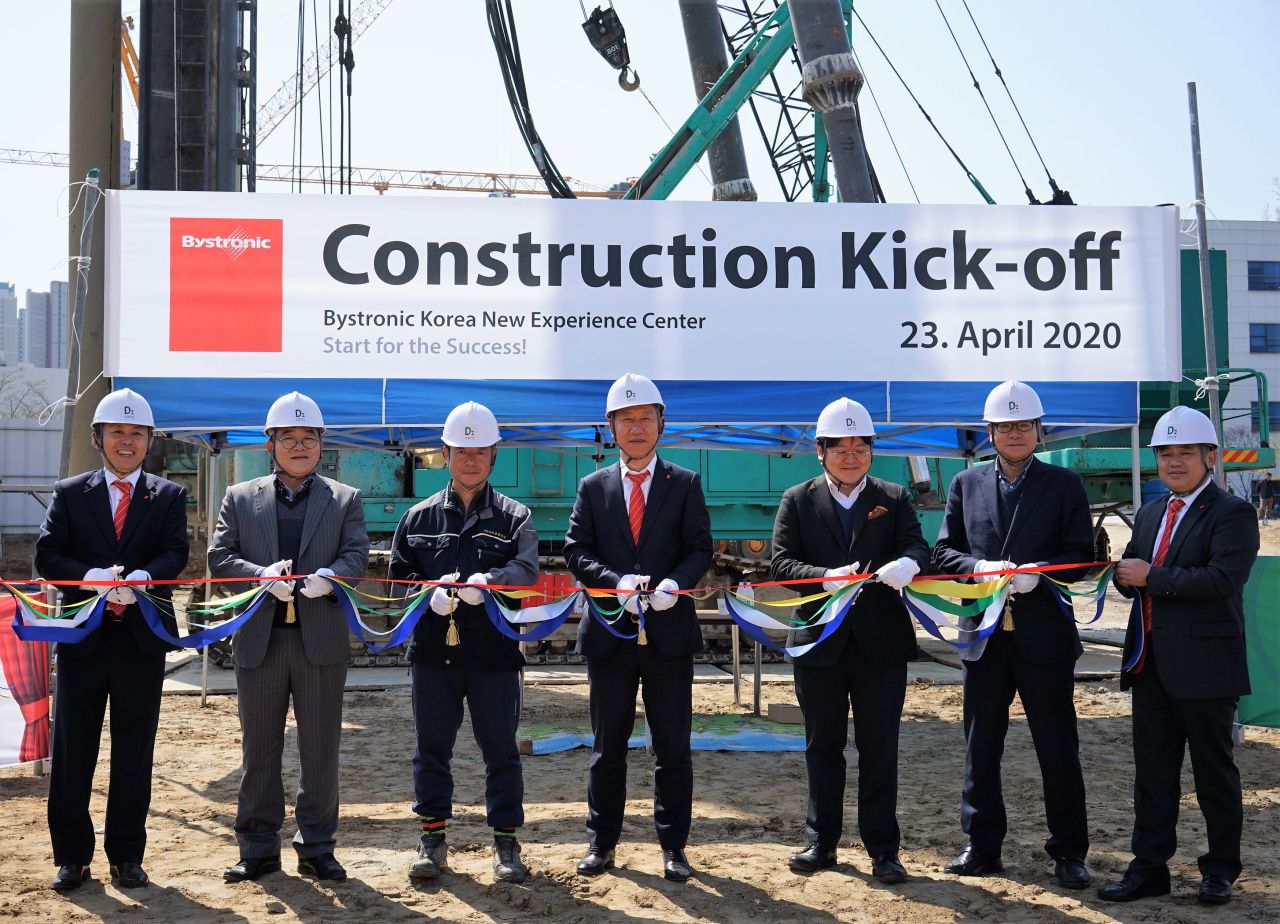 A new Experience Center for Southeast Asia
Not far from the capital of South Korea, Bystronic Korea celebrated the groundbreaking ceremony for its new Experience Center. With the new business location, Bystronic Korea is moving closer to its customers and, thanks to the newly created infrastructure, will be able to offer even more comprehensive customer support.
During the ceremony on April 23, which was attended by representatives from the construction company, the architecture firm, and the engineering company, YoungchulChoi, Managing Director of Bystronic Korea Ltd., broke the ground for the new Bystronic Experience Center. The event was held in the form of a small traditional Korean celebration and in full compliance with the current safety regulations.
The new headquarters of Bystronic Korea is being built in Songdo-dong, in the "Incheon Free Economic Zone" (IFEZ). This industrial zone is located some 50 kilometers southwest of the South Korean capital of Seoul and some 30 kilometers southeast of the Incheon International Airport. It is thus easily accessible for customers from the entire Southeast Asian region. For Bystronic, the new site is located in a strategically important area, since the economic output of this region accounts for roughly 65 percent of the entire Korean economy. This makes it the ideal hub from which to provide customer services, since many of Bystronic Korea's customers are also based there.
The move to a newly constructed building originally came into consideration because sales in South Korea have increased massively over recent years. The new headquarters will lay the foundations for consistent and sustainable growth. On a floor space of 3,360 m2 – roughly three times the size of the previous area – a striking building with a glass façade characteristic of Bystronic is being constructed with an 820 m2 Experience Center for Korea and the entire Southeast Asian region. Completion is planned for the spring of 2021.
Services directly from the source
Another reason was the demand for a universal service center in this region that is so important to Bystronic. Consulting, hotline services, live demonstrations, and software and hardware training courses constitute the core customer services. In addition, the business location will offer sales, maintenance and spare parts. Customers will thus benefit from the comprehensive know-how of the leading technology supplier.
With the opening of the new business location in South Korea, Bystronic will gain an additional center of expertise where customers can experience the latest manufacturing systems, software applications, and services first-hand.