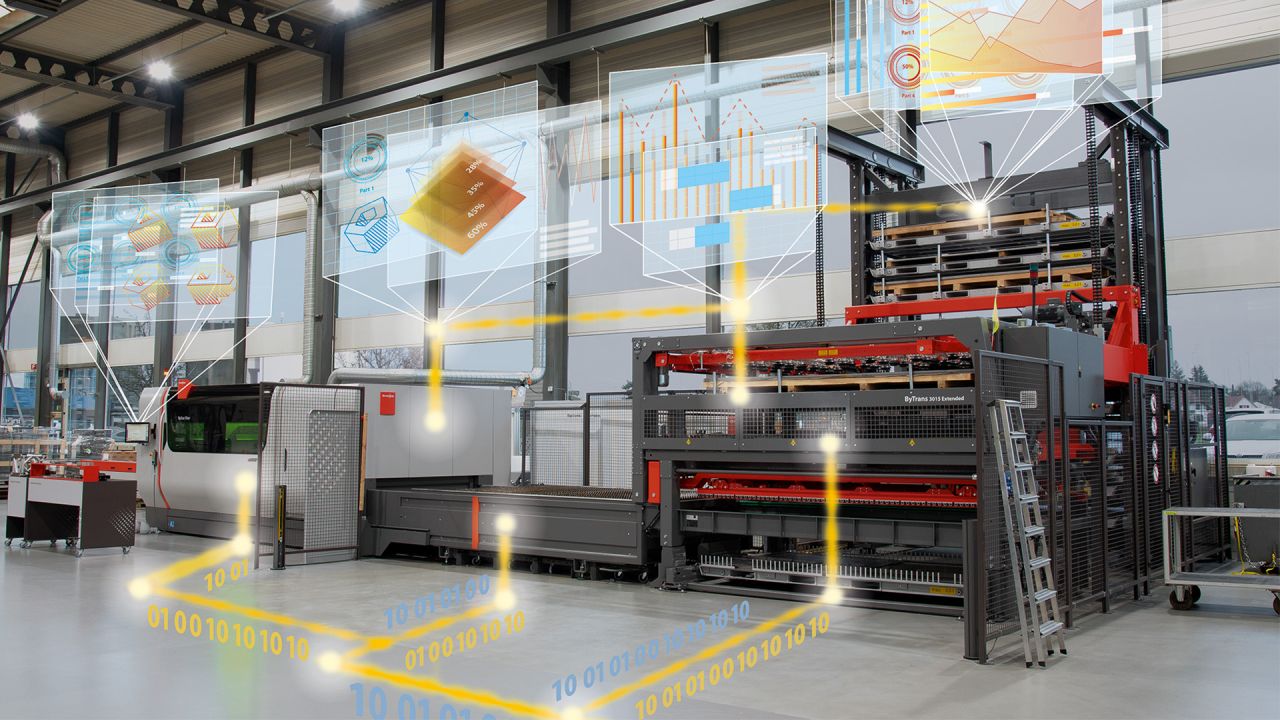 Step-by-step approach to becoming a digital champion
Medium-sized sheet metal processing companies are resolutely tackling digitalization. But what can be optimized? How best to automate? And what should be networked? These questions can only be answered through expertise and experience. The roadmap for the future has to be developed within the framework of a cooperative partnership. Bystronic helps its customers to make profitable use of the opportunities presented by new technologies.
The difference could not be greater: While large industrial companies are already manufacturing in fully automated and networked environments, the process chains of medium-sized companies still contain considerable optimization potential. For most job shops and manufacturing companies, Industry 4.0 is just a buzzword, or at best a vision. They are still a long way from the smart factory.
It comes as no surprise that smaller companies are not on a level playing field with the large corporations. Day-to-day business operations leave little scope for infrastructure changes, and most automation solutions are too rigid for SMEs. Companies that have to deal with fluctuating order situations within a limited space are dependent on flexibility. Another problem is compatibility: Networking different systems is extremely difficult. And replacing the entire fleet of machines in one go is financially simply not an option.
The pressure to digitalize is increasing
However, the increasing cost pressure and growing customer demands make the application of automation solutions and software indispensable, even for medium-sized companies. After having already shaken up a wide range of other industries, the disruptive impact of digitalization is slowly but surely spreading to the industrial sector.
Progressive companies are considering how they can use new technologies to their advantage. These include many Bystronic customers. We are observing that small and medium-sized job shops want to push ahead with the digital transformation in order to remain fit for the future. They want to achieve the transition from analog to digital as quickly as possible. But to achieve this, they require support, because the implementation requires expertise and experience.
Flexible and scalable solutions
We consider ourselves an important partner for these companies. We understand their business because we have been providing dedicated support to precisely this customer segment for more than 30 years. Two thirds of Bystronic's customers are medium-sized companies. Our teams are familiar with their workflows, their business processes, and their market. And we understand both worlds – the analog and the digital. After all, we have ourselves successfully achieved a digital transformation: We have evolved from an analog manufacturer of machines to a supplier of digital end-to-end solutions.
Automation and software now play a key role in our portfolio. In spite of all the changes, we have remained true to our principles: We continue to focus on all the processes relating to cutting and bending. We are doing everything we can to make sheet metal processing simpler, more efficient, and more cost-effective. This requires solutions that fulfill the requirements of medium-sized companies. Integrating these solutions into existing workflows must be possible in a quick and simple manner. Simultaneously, they must be sufficiently flexible and scalable to enable the company to grow step by step.
From a maturity diagnosis to a roadmap
In order to offer our customers optimal solutions, we must understand their particular situation. We determine our customers' current status using a digital maturity diagnosis. Based on this model, which we developed in-house, we evaluate a whole range of aspects relating to digitalization: production processes, employees, data management, IT infrastructure, logistics, and quality assurance. We differentiate between five levels of maturity: digital starter, digital explorer, digital player, digital challenger, and digital champion.
Once we have analyzed the initial situation, we work together with the customer to develop a digital transformation roadmap. In this way, we advance step by step towards the ultimate objective: networked manufacturing. We even integrate machines from third-party manufacturers, because we are convinced that openness is a key prerequisite to mastering the digital transformation. The success can already be felt with the achievement of the first milestones: The material flow is accelerated and energy efficiency is optimized. Productivity increases and operating costs decrease.
A tradition of innovation
Bystronic solutions have always been state-of-the-art. We were one of the laser cutting pioneers in 1984 and four years later, we launched the world's first PC-based nesting solution. We have maintained our innovative capacity to this day: Four years ago, we launched our first software solution for digital production management and two years ago the world's first mobile bending automation solution. To ensure that we remain as innovative in the future, we are intensively exploring technologies such as machine learning and augmented reality.
We will present our latest technological innovations at the EuroBLECH 2020 in Hanover at the end of October, where we will also showcase our latest version of the smart factory. This modular solution networks all the components with which we are facilitating our customers' path into the future of sheet metal processing. Step by step.