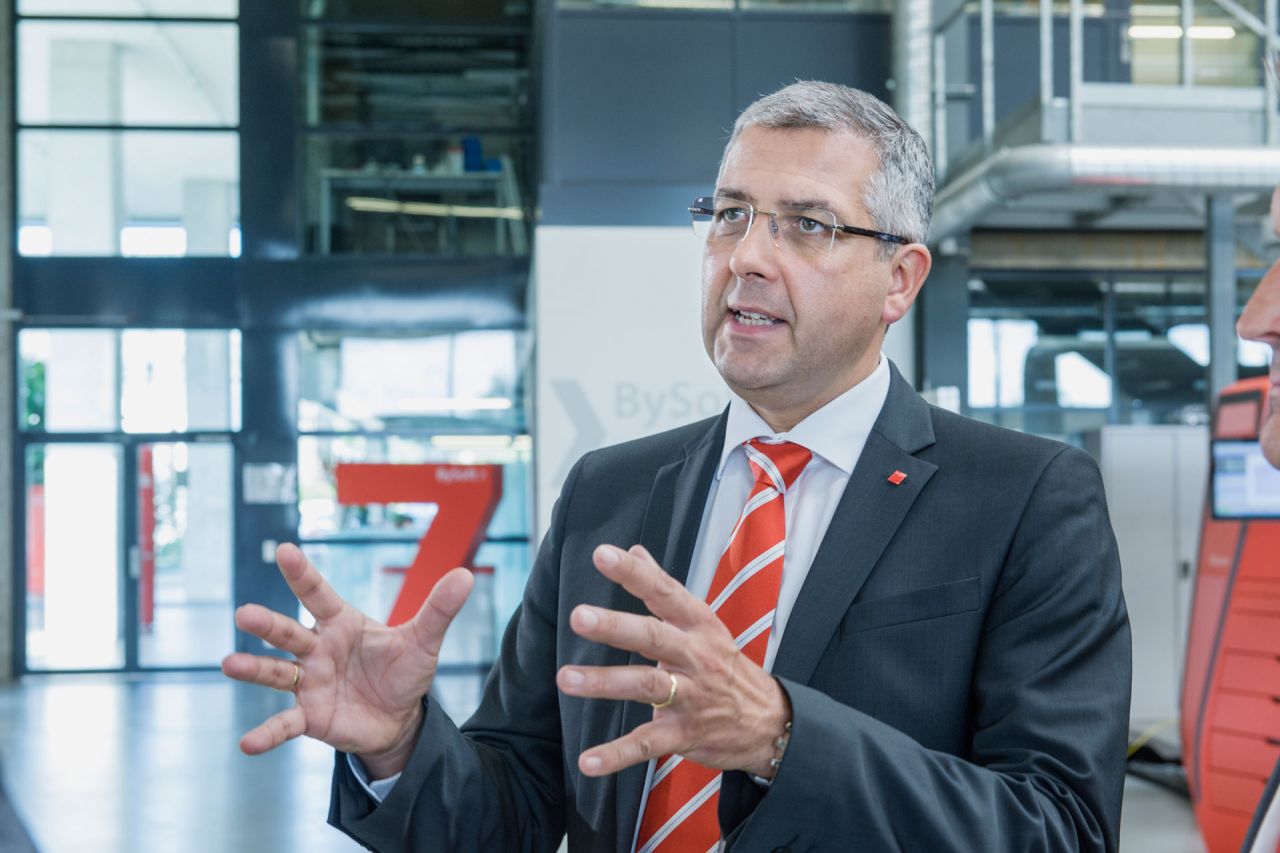 "Manufacturing is becoming networked, automated and transparent"
At the Blechexpo exhibition in Stuttgart, Bystronic is presenting the networked world of sheet metal processing. In this interview, Bystronic CEO Alex Waser explains where integrated automation and new software solutions for laser cutting and bending will lead.
Mr. Waser, in your view, what are currently the most interesting technology trends in the sheet metal processing sector?
The integration of automation solutions and digital networking into the users' process steps in combination with impulses from the field of Industry 4.0. I am thinking of modular material handling solutions for laser cutting. Compact systems that grow with the customers' requirements and with increasing laser output. With regard to bending, I am thinking of flexible automation systems than enable fast transitions between automated and manual manufacturing. Thanks to the possibilities of digital networking, all these systems can be integrated into a transparent and maximally optimized manufacturing flow. They are controlled by high-performance software solutions that are simple to use.
What impact will these trends have on the users?
Digital solutions and automation enable users to master fluctuating order situations using flexible systems. What is more, the manufacturing process will become more transparent. Thanks to software solutions, such as the Bystronic MES, users will be able to create offers more rapidly, plan their production processes in an efficient manner, and make the best possible use of their resources. Live monitoring systems, such as our ByCockpit app, represent an additional building block. They provide users with real-time information about the running processing steps from their production environment. All this will result in an optimization of costs and processes. And this in turn, is the prerequisite for sustainable competitive success.
What role will service play in the sheet metal processing business of tomorrow?
Optimized process solutions still require a reliable partner to provide support with a comprehensive range of services. Service means proximity to the customer, proximity to the customer's requirements and challenges. Even the best processes are of no use to customers without the corresponding know-how of technology experts, well-trained service technicians, and a well-networked infrastructure. Hence, Bystronic will continue to focus on offering consulting and training in our modern training centers with the latest equipment. Upon request, we also carry out training courses on site at our customers' business location.
To what extend will the possibilities of digitalization change the range of services in the future?
Our customers already have the possibility of accessing digital service solutions. In the future, these services will provide even more far-reaching support for our customers' process steps. And they will expand the performance spectrum of the integrated machine systems. Depending on the configuration, this will result in more versatile or faster processes. The field of predictive maintenance will also continue to progress. The possibilities of digitalization will allow us to integrate intelligent functions into our range of services. This provides customers with information about the condition of their machines and about the remaining operating life of components that are subject to wear. This allows them to schedule maintenance at an early stage. And then Bystronic is quickly on site with the required spare parts.
What should visitors to the Bystronic booth at the Blechexpo absolutely not miss?
Allow yourself to be inspired by our range of "World Class Manufacturing" solutions. A visit to Bystronic's exhibition booth will enable you to experience first-hand what your production environment could look like in the future: networked, automated, and transparent.
Visit Bystronic at the Blechexpo exhibition: Hall 1, Booth 1712