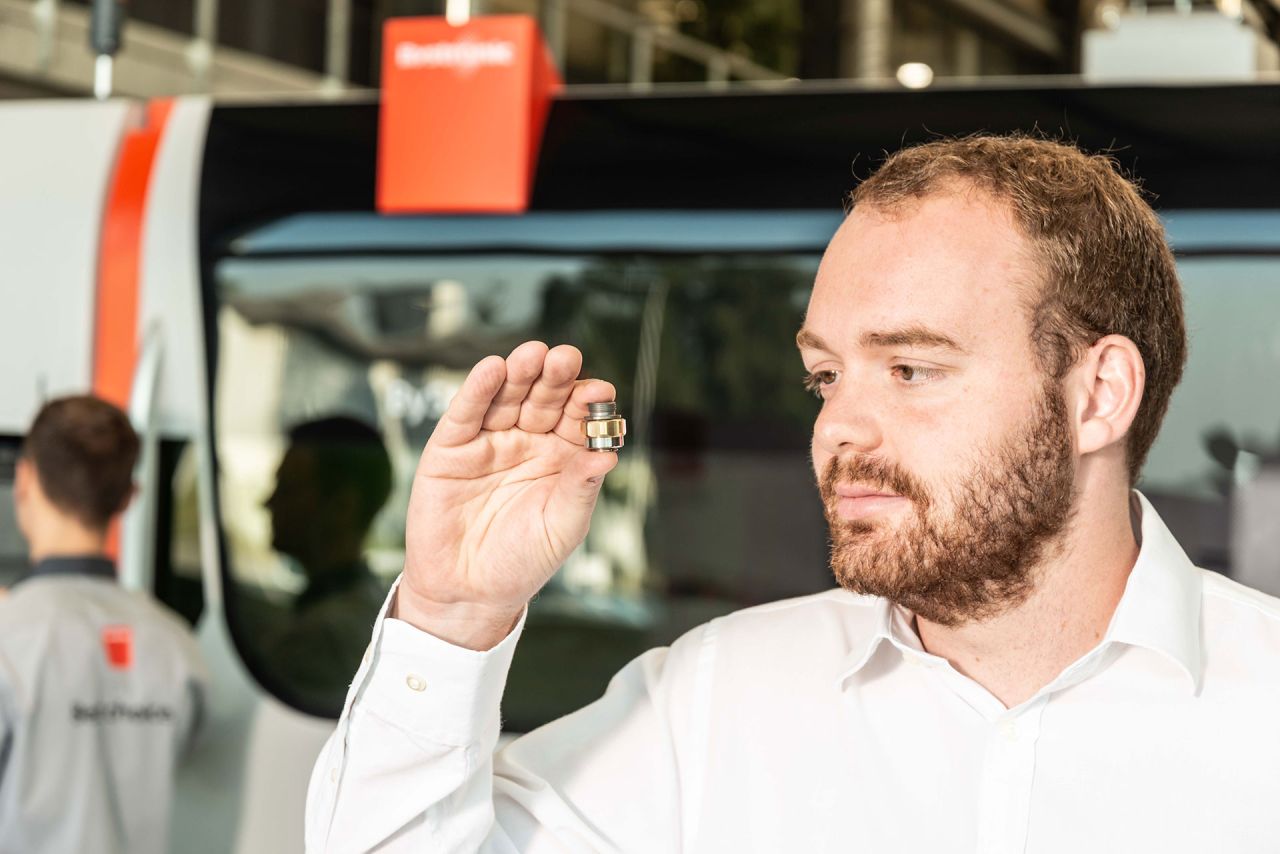 Spare parts: A copy or the original?
Only high-quality spare parts unleash the full potential of a laser cutting or bending system. An increasing number of customers are also realizing this. They trust in the high quality of Bystronic original spare parts. Product Manager Michael Uebelhart illustrates the benefits.
Precision and quality are crucial in the field of industrial manufacturing. A basic prerequisite for this is the use of the appropriate production equipment. This general principle also applies to the laser cutting and bending of sheet metal products. "The demands placed on metal processing companies and suppliers are constantly growing," Product Manager Michael Uebelhart explains. "Nowadays, the production of sheet metal parts is more complex than it was 20 years ago. Simultaneously, the customers' error tolerances are decreasing."
The day-to-day operations of many sheet metal processing companies demand not only high quality but also speed and flexibility. These conditions are challenging for both people and equipment, says Michael Uebelhart. Order levels change from one day to the next. Price pressure and the shortest possible lead times require peak performance in every production step. Hence, in addition to technical expertise, the quality of the machines and the durability of spare parts are decisive factors. Companies that try to save money in the wrong places forfeit productivity, reliability, jobs and, in the worst case, customers.
"It is like buying a car," Michael Uebelhart explains. There are certain reasons for choosing a premium vehicle. In order to maintain its performance and value for as long as possible, one should then also rely on high-quality spare and wearing parts.
Long service life under the toughest conditions
This is why Bystronic supplies its customers with original premium-quality spare parts. "Our customers choose Bystronic machines because our systems offer unmatched quality and a long service life. This claim is also fulfilled by our spare and wearing parts," Michael Uebelhart emphasizes.
Original spare parts offer users numerous advantages. This overview lists the most important benefits:
Proven quality: All Bystronic spare parts are manufactured to the highest quality standards. For this, Bystronic relies on certified suppliers.
Intelligent engineering: The know-how of our process engineers and the feedback from our customers flow into the development of Bystronic spare parts. This results in spare parts that fulfill the requirements of our customers and that are perfectly matched to the specific characteristics of our systems.
Long service life and high machine availability: The high-quality processes applied during the manufacturing of our spare parts guarantee a long service life under the toughest operating conditions. This, in turn, reduces machine downtime that could result from maintenance or breakdowns. All this saves time and costs.
Fast delivery and extensive choice: Bystronic offers an unsurpassed range of spare parts and consumables for all its current machine systems as well as for older models. Customers can order the parts directly from their local Bystronic subsidiary. Bystronic always ensures the parts are delivered as quickly as possible.
Consulting and lifetime service: Our customers work with high-precision machines to fulfill the highest demands. Bystronic supports all process steps relating to cutting, bending, and automation with direct support and qualified service technicians who are rapidly on site if needed. Our service promise applies today, tomorrow, and every day thereafter.