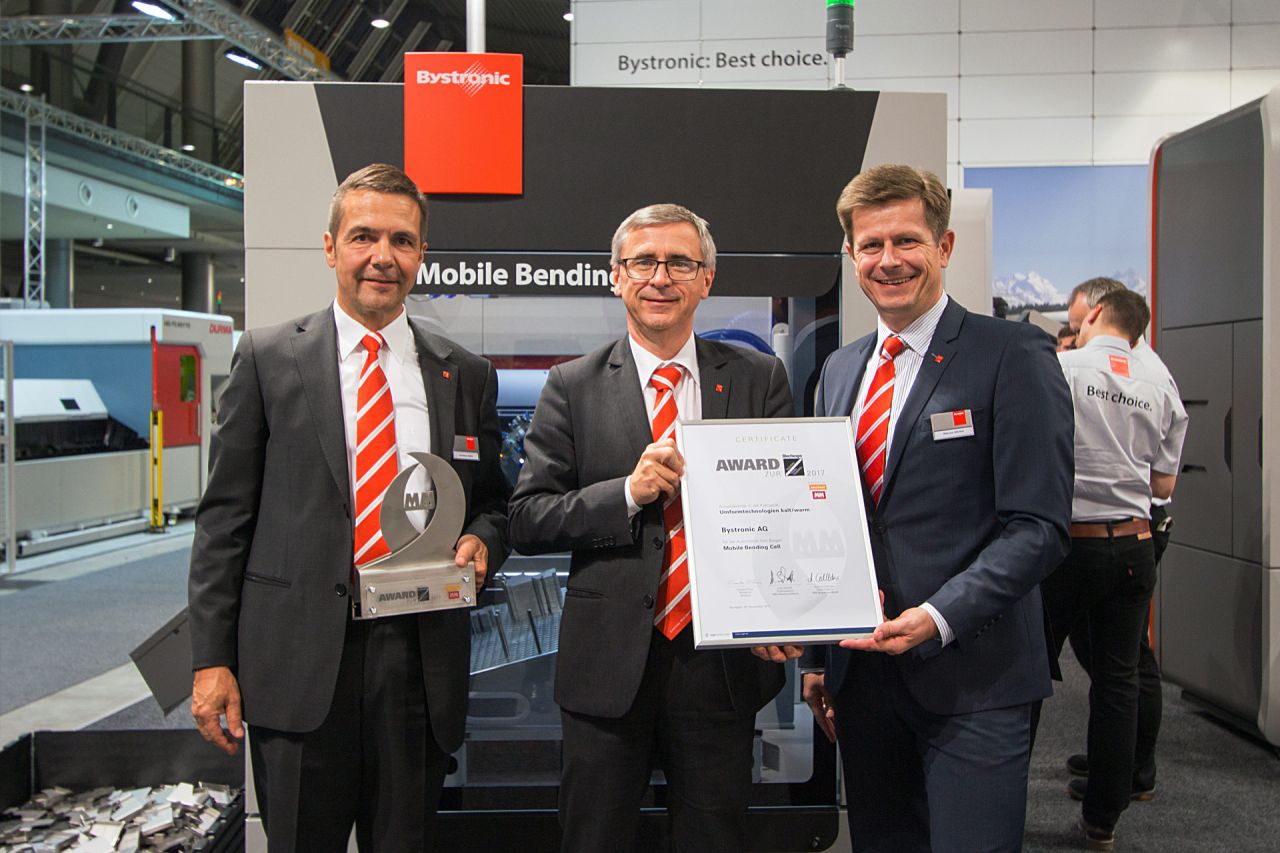 Blechexpo: Award for the Mobile Bending Cell
At the Blechexpo 2017 exhibition in Stuttgart, Bystronic won an innovation prize for the Mobile Bending Cell. The specialist jury awarded the prize for Bystronic's bending automation solution in the "Warm/cold forming technology" category.
The German industry magazines "MM MaschinenMarkt" and "blechnet" presented their awards for innovative solutions in the field of sheet metal processing on the first day of the Blechexpo 2017 exhibition. Numerous exhibitors had entered their developments for the "Award for the Blechexpo 2017" innovation prize, which was awarded in a total of six categories.
The prerequisites: The innovations had to be based on a completely new solution or on a further development that differs substantially from the previous state of technology. Subsequently, a jury consisting of editorial staff from the "MM MaschinenMarkt" and "blechnet" trade magazines assessed the submitted solutions in terms of their level of innovation and their value for users, the environment and society.
Flexible bending automation comes in first
With the Mobile Bending Cell bending automation solution, Bystronic won in the category "Warm/cold forming technology". The jury was particularly impressed by the flexible but still compact solution that enables users to bend both fully automatically and manually.
The technology behind the Mobile Bending Cell is comprised of the Xpert 40 in conjunction with bending robotics. A combination of a fast press brake and mobile automation. For example, with the Mobile Bending Cell, users process large series in the automated bending mode. However, they can also manually bend small series and individual parts whenever necessary.
And this is how it works: The compact Xpert 40 can be set up and put into operation in virtually any environment. And if required, it can quickly be moved to another location. The bending robotics solution seamlessly interfaces with the Xpert 40. Users can set up the robotics system on the Xpert 40 in just a few minutes. And the entire Mobile Bending Cell system remains extremely compact. When not in use, the bending robotics can simply be moved to one side.