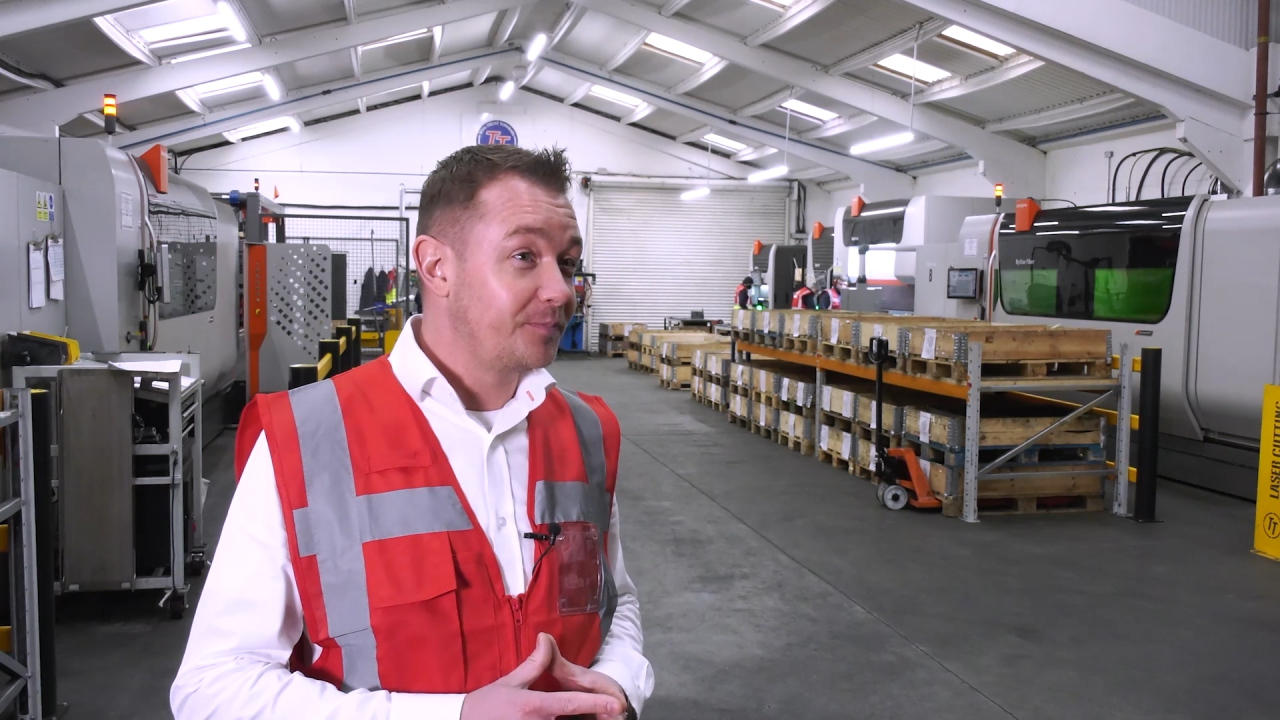 Tow-Trust Raises the Bar with Bystronic
Evolving from a husband and wife 'start-up' company to the UK's leading manufacturer of towbars, the 30-year journey to success for Tow-Trust has been built upon an ethos of providing products of unparalleled quality at competitive prices.
Since its 1991 inception, the business has grown exponentially in terms of staff, product lines, components, and market share. The Warwickshire manufacturer now employs 86 staff and produces towbars for all leading vehicle and motorhome brands with an accessory list that encompasses everything from spacers and steps to height couplings, adaptors, connectors, bumper protectors, chassis extensions, tow balls, socket plates and much more. With a continually expanding business and a position as the UK's marque towbar manufacturer, the company has invested heavily in the latest technology and automation – this includes a multitude of machines from Bystronic.
As the CEO of Tow-Trust Towbars, Tom Miller says:
"We manufacture over 3000 part numbers and ship hundreds of thousands of units every year. The manufacturing process starts at two different times, we have the hollow stock section and the sheet steel divisions. The sheet steel division runs the very latest in technology with laser cutting and automation. From here, we pass the products through press braking and welding sections to the 'work-in-progress' holding area."
The sheet steel division is home to a wealth of technology from Bystronic with the area having three Bystronic press brake machines, the Xpert 40, Xpert 80 and Xpert 200 all lined up next to a Bystronic ByStar Fiber laser cutting machine. Adjacent to the four machine line-up is another ByStar Fiber laser cutting machine, this machine is continually processing sheet steel credit to the Bystronic ByTrans 3015 Extended automated sheet metal loading facility that minimises operator intervention.
The company also has a 'hollow section' division. Discussing this area, Tom continues:
"This department also runs the latest technology. Here, we have the automated Bystronic ByTube 130 for cutting round and square tube material stock and alongside this is a custom-built AMOB CH120 semi-automated machine for tube bending. This gives us complete control over our product, which is essential as we work to very tight tolerances and we require the ultimate in quality."
"When all the products have passed through our manufacturing phase, and the hollow section and sheet steel division complete their parts, components are then moved to the work-in-progress area. Here, we construct sub-assemblies and undertake our quality control process. This feeds our welding shop where we have 10 manual welding bays for small intricate parts and low-volume production parts. We also have four robotic bays for high-volume production."
Above the production shop floor resides the Design Centre and Test Division, it is here that the Tow-Trust team work closely with customers, vehicle manufacturers and its network of national dealers. Alluding to the role of this department, Tom adds: "Our in-house design team will always start by applying for the vehicle mounting point data from the vehicle manufacturer. Once we have this, we have the criteria to design and manufacture a product. From here, we will design a specimen and run it through FEA at the intended loads to check the product is capable of safely fulfilling its requirements."
"When this has all been completed, we will fully check the manufacturing process through the Bystronic software. When we are happy that we can manufacture the part and that it will achieve its load requirements, we will then make a sample. We will get a vehicle to our facility and check the parameters, and we do this for every vehicle on the road. Once we have met all our stringent manufacturing criteria, we will put the system through its type approval phase. We have a single-axis test machine, which conducts 2 million cycles and we have a Carlos test machine that is a 93-hour test – safety is paramount."
When all the parts have moved through the production cycle, they are then shot blasted, pre-treated and e-coated (Electrophoretic coating) with an industry-leading e-coat finish that has 1200-hour salt spray corrosion performance. Upon completion, the part is then passed to the packing division, as Tom continues: "We pass parts down our bespoke automated packing line where we weigh the product, band it, and send it through a heat shrink tunnel. The parts are then transferred to our warehouse where more than 30,000 items are held in stock at any one time. We have commissioned our in-house warehouse management software to give us complete control of our stock management where we scan all inventory in and out from point-of-sale to goods in the lorry - we are in complete control."
Concluding on the business, Tom says:
"The company has come a long way since 1991 when it was founded. My parents set the business up in a small workshop in Atherstone, and with the continuous improvement and investment plans that we have put in place, we have become the UK's largest towbar manufacturer, which we are extremely proud of as a family-run business.