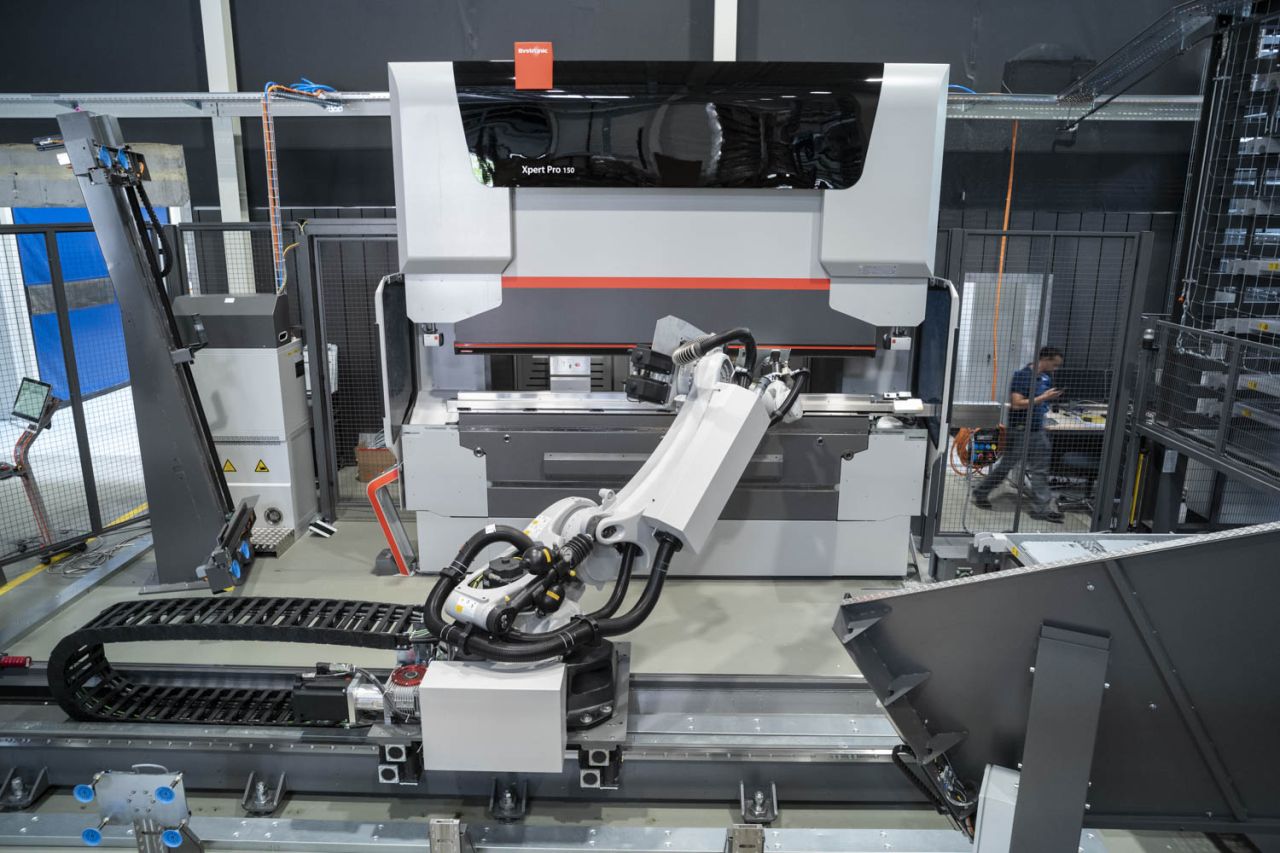 Two factories under one roof
Thanks to its investment in a Bending Cell (consisting of an Xpert Pro press brake combined with a bending robot), the Swiss job shop Stoppani will soon also be able to produce during the night – completely autonomously.
Hans Gattlen has a clear vision: a "dual factory", where people work during the day, and machines take over the night shift. This digital factory in Neuenegg near the Swiss capital of Berne will produce fully automatically and fully autonomously – thus saving costs and reducing the staff's workload. Together with his team, Hans Gattlen, who has been a co-owner and the Chairman of Stoppani's Board of Directors since late 2018, has introduced new structures over the past few months, and has, above all, significantly modernized the company's sheet metal processing operations.
Substantial reduction of costs
In the next step, he intends to comprehensively digitalize Stoppani's sheet metal processing in line with Industry 4.0. In this way, the entrepreneur wants to attract orders back to Switzerland, where the industry has found it increasingly difficult to compete against companies from abroad in recent years. This is due to the lower labor expenses in Italy, Portugal, and many Eastern European countries, which allow companies there to produce at 20 to 30 percent lower costs. "Fully automated production will enable us to reduce our own costs by around 35 percent," he emphasizes
Fully automatic all through the night
Each new part that is produced must be programmed in advance. After that the program can be retrieved whenever required. In combination with the Xpert Pro press brake, the robot functions fully autonomously and even changes grippers and bending tools without human intervention. But that's not all: The intelligent BySoft 7 software determines the ideal bending sequence to achieve maximum efficiency for each job. "The integration with the warehouse was absolutely essential for us, both for the retrieval of the metal sheets and for the storage of the bent parts," says Hans Gattlen. "If this could not be achieved, an operator would always be tied up at the press brake."
Entirely without human intervention
This was the main reason why Stoppani chose a Bystronic solution. "Our previous supplier could not guarantee that the warehouse integration would be possible not only for the current machines but also for future models. That's when I realized: We need to get a new partner on board."
The principle: In the evening, when the staff have turned off the lights and gone home for the day, the robots and machines continue working. From 6 p.m. to 6 a.m., operations run fully automatically – entirely without human intervention. The staff no longer have to work night shifts or perform strenuous tasks and can dedicate their valuable time to more demanding bending jobs or other activities, such as programming the laser cutting machine.
For every requirement
Bystronic launched the Bending Cell in 2018, and it is already in operation in Canada, Hungary, France, Italy, and the United States. The Bending Cell is available for the Xpert Pro 100, 150, 200, 250, and 320 press brakes. The maximum press capacity is 320 metric tons, and bending applications up to 3 meters are possible. Five robot types are available with lifting capacities ranging from 90 to 270 kilograms. Benedikt Kreisel: "This wide range of configurations enables Bystronic to offer its customers a setup that is tailored to their specific needs. The Bending Cell is also characterized by its flexibility in terms of applications," says Benedikt Kreisel, Bending Automation Product Manager at Bystronic.
Find the whole story in the Bystronic World 02/20 customer magazine.