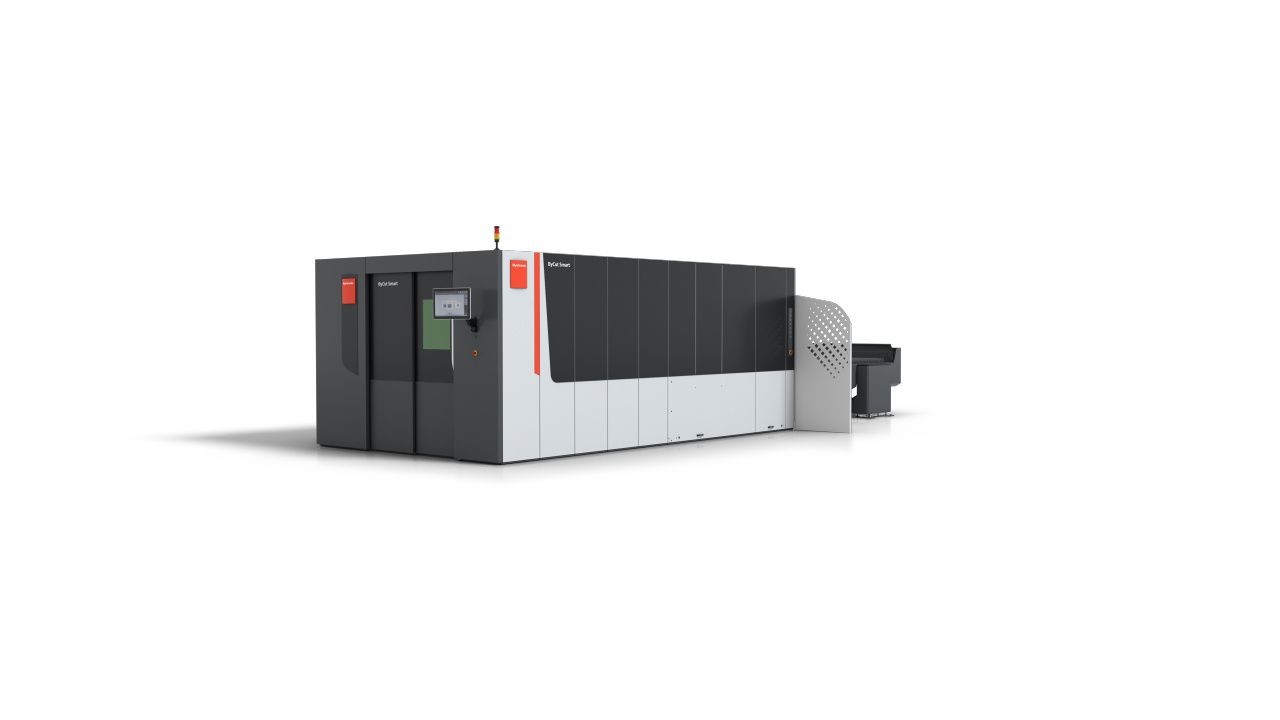 From the BySmart Fiber to the ByCut Smart
The brand new, enormously flexible ByCut Smart 3015 cuts with high laser power and an optimized cutting process – while being extremely attractive in price
The new ByCut Smart 3015 represents the new generation of laser cutting machines from the "Smart" series. The new machine impresses with a sharp and modern design, as well as high power for every requirement.
Plenty of power
Laser power levels from 3 to 15 kW ensure excellent cutting performance and high parts output for thin to medium sheet metal thicknesses. Depending on the production range and customer request, the ByCut Smart 3015 is available in a selection of different laser powers of 3, 4, 6, 8, 10, 12, and 15 kilowatts.
Sheet metal processing enterprises benefit from this with a broad application spectrum: In addition to steel, stainless steel, and aluminum, non-ferrous metals can also be processed with world-class cutting quality.
Upgradeable with clever features
The ByCut Smart is extremely flexible and stands out due to its maximum degree of configurability. Smart features such as the Nozzle Control Tool (NCT) and KerfScan, the Parameter Wizard, and cutting with MixGas, in addition to more laser power, ensure higher cutting quality as well as increased productivity.
More loading capacity thanks to a new shuttle table concept
With the new shuttle table concept, load your ByCut Smart up to 40 millimeters over the entire surface on both tables or 60 millimeters over the entire surface on one table. This means you achieve a significantly higher maximum load on the shuttle table compared to the status quo of 30 millimeters and therefore cut significantly thicker parts.
Better access
In addition, the new ByCut Smart cuts a distinctive figure: New, modern contours create a sharp look and match the machine's performance. Furthermore, the new design significantly increases user friendliness. Different access door configurations provide perfect flexibility in the design. This includes front and/or side access as well as multiple windows with direct views of the cutting process. Overall, the new design offers better access to the interior space as a result.
"The new ByCut Smart 3015 is the smart way to access fiber laser technology – now in a new design, with intelligent functions and high power for every requirement."
Michael Gerber, Product Manager
The ByCut Smart 3015 proves itself to be robust and stable, guaranteeing low operating costs: A fast cutting process and extremely low maintenance requirements guarantee high machine availability and longevity, and thus more profit per part.