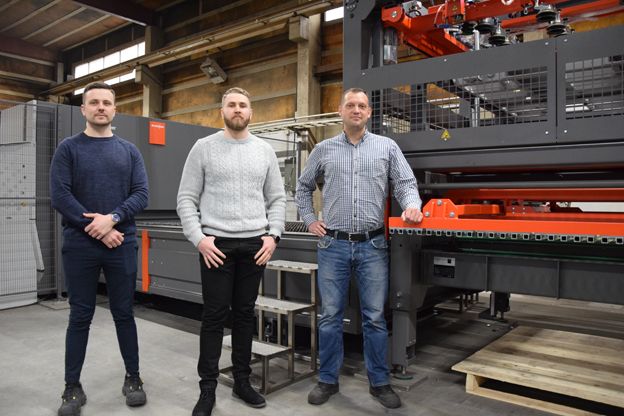 Kailin invests in competitiveness
Kailin Oy, a Hollola-based manufacturer of plate and tube structures, is developing its production capabilities. A new Bystronic laser cutting machine and pressbrake with automatic tool change will increase capacity, streamline operations and also bring new ergonomics to the work.
Kailin Oy's industrial production includes stainless and acid-resistant steel and aluminium products and structures. The company has been active in this sector since 1996.
Initially focused on laser cutting, the company's portfolio now also includes edging, annealing, welding assemblies with various stages, further processing of cuts and assemblies. Work is often carried out from customer designs, with design services also available if required.
Stronger and more efficient
Over the past couple of years, Kailin has been updating its machinery at a rapid pace.
"Ensuring the company's competitiveness, product quality, security of supply and cost-effectiveness are key issues. We also want to increase production capacity,"
says Janne Lievonen, Sales Director.
In connection with the investment project, Kailin purchased a new fibre laser and, in the same context, a pressbrake with automatic tool change and remote programming.
"Our core production machine for cutting and punching has been a fibre laser/plate machine combination machine with material thicknesses of 0.5 to 6 mm. Our previous pressbrake capacity was also designed for the same material thicknesses, and this capacity was no longer up to the level of the company's growth and customer demand. We are increasing our capabilities in processing stronger materials and streamlining our operations with the possibilities of modern technology," Lievonen says.
The machine selected after a competitive tender process is the Bystronic BySmart with 10 kW cutting capacity.
"The machine can cut material thicknesses up to 25 mm. The increase in our capacity is big, and the cutting and high-speed cutting speeds of the new technology are at a new level compared to the previous technology. The handy loading system contributes to the increase in process speed," says Lievonen.
The machine can process 1500x3000 mm sheets. The company purchased a loading and unloading device to facilitate plate handling.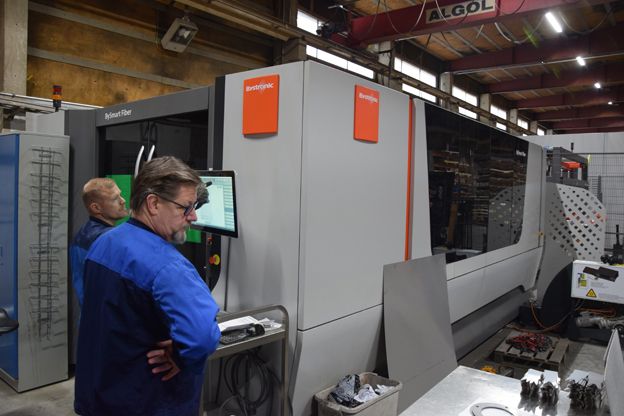 Tool change with automation
Kailin's new Xpert Pro 200 edging press is a 200-tonne clamping force and a three-metre bending width workhorse.
"The machine enables us to bend stronger materials and produce more versatile shapes. With the laser and the pressbrake from the same manufacturer, the software side and data transfer work seamlessly,"
says Artem Baluev, software engineer.
The fact that the machine is equipped with automatic tool change adds to the efficiency of the whole process.
In Bystronic's solution, a robot located behind the machine changes the tools on the machine. Kailin's system is the first of its kind in Finland.
"Our production consists mainly of small batches, which means that time-consuming tool changes are frequent. With automated tool changing, the time needed for tool changes will be greatly reduced, we have calculated that the working time for tool changes and set-ups can be at least halved from the current level," says Lievonen.
In addition, ergonomics will be improved. Changing tools is hard work.
"Automatic tool changing reduces the workload, improves ergonomics and safety, and improves job satisfaction when tools are very heavy and can take up a significant part of the working day. A more user-friendly machine also enables easier programming of the work cycle for the workers and easier blade changing in terms of automation, and also helps to lower the recruitment threshold," Lievonen sums up.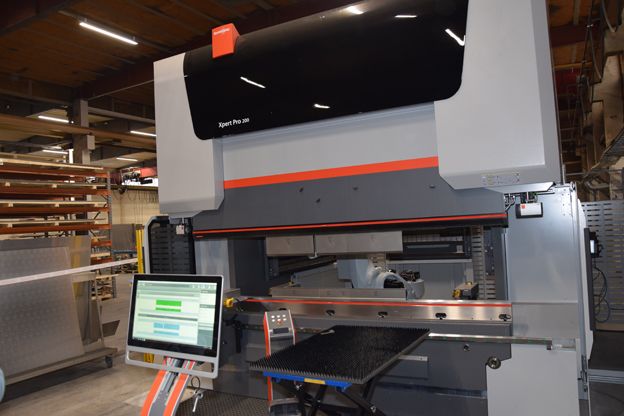 A new boost to growth
In recent years, Kailin has recorded a nice growth in the market.
The company had a turnover of €3.1 million in 2022 and employed 17 people. Turnover increased by 23.5% year-on-year.
"The growth is based on the development of business from our regular customers and the volume of orders from them, as well as new customer accounts. We have invested in new customer acquisition."
New technology is now further driving the company's development.
"We will be able to serve our customers more extensively with the additional capacity and the technology to handle a wider range of raw materials. We are improving the direct competitiveness of our company, our network of companies and also our customer companies," says Lievonen.
Kailinin Oy was owned until 2021 by Kavika, and today Kailin operates in the same LVI Works group structure as JWS Steel and Stemet, both owned by the Lievonen family, which provide metal subcontracting services.
"The cooperation complements our comprehensive customer service," says Juuso Lievonen.