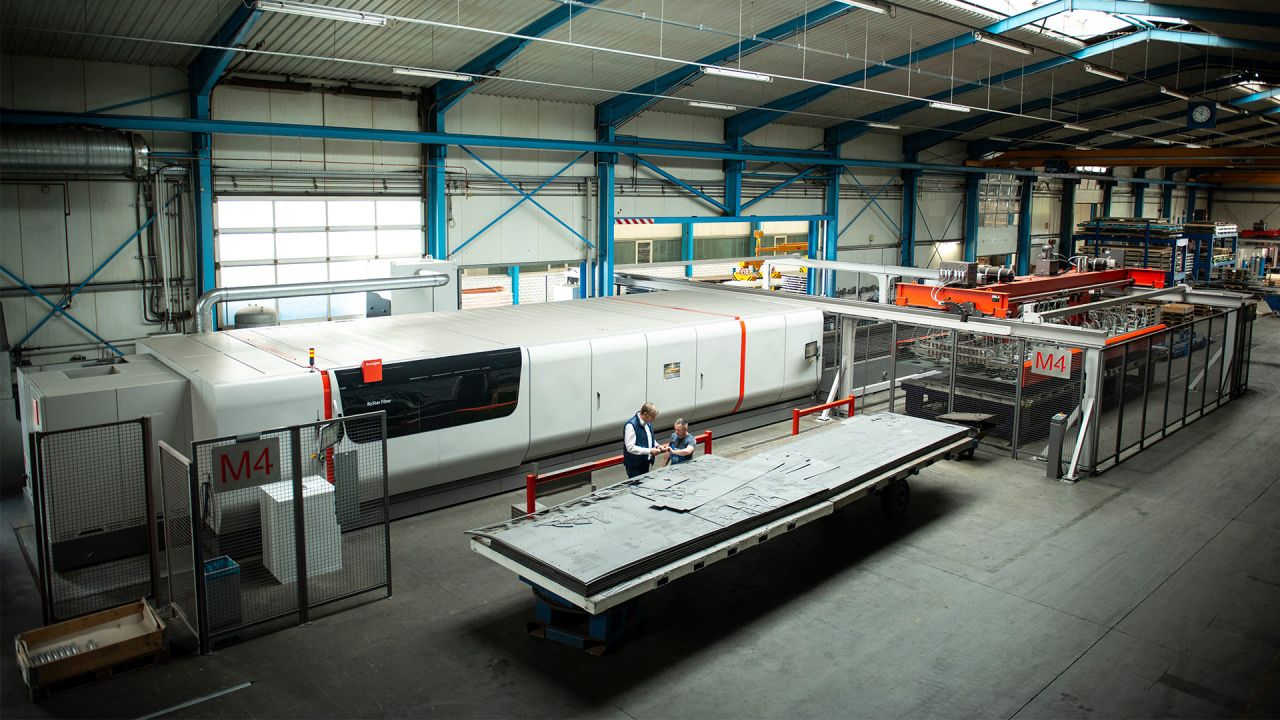 Laser cutting in an 8 meter format
In northern Germany, Langen CNC Metalltechnik GmbH & Co. KG has been successfully processing metal for 30 years. The family-owned company has continuously invested in state-of-the-art laser cutting technology and infrastructure. Recently, their production hall has become home to a ByStar Fiber 8025 with a customized automation solution from Bystronic.
A green light behind a tinted window, the laser cutting head whizzes around in all directions. With precise and agile movements it cuts contours out of a metal sheet. The ByStar Fiber 8025 has been in operation at Langen CNC Metalltechnik in the German municipality of Hilkenbrook since February. "We wanted a machine that cuts efficiently and that is capable of processing large formats. We bend metal parts with lengths of up to eight meters and we thus also wanted to be able to cut parts of this size," explains Franz Langen, Managing Director of Langen CNC Metalltechnik.
Since such a large laser cutting system in combination with an automation solution did not yet exist on the market, a lively exchange was initiated with Bystronic in Switzerland. The result is a powerful ten-kilowatt cutting system that cuts 8 by 2.5 meter metal sheets up to a thickness of 30 millimeters like butter.
An operator from Langen CNC Metalltechnik monitors the cutting process on the ByStar Fiber's two touch screens. Depending on the configuration, the screens show when which parts will be cut and display all the relevant details of the cutting jobs that are in progress.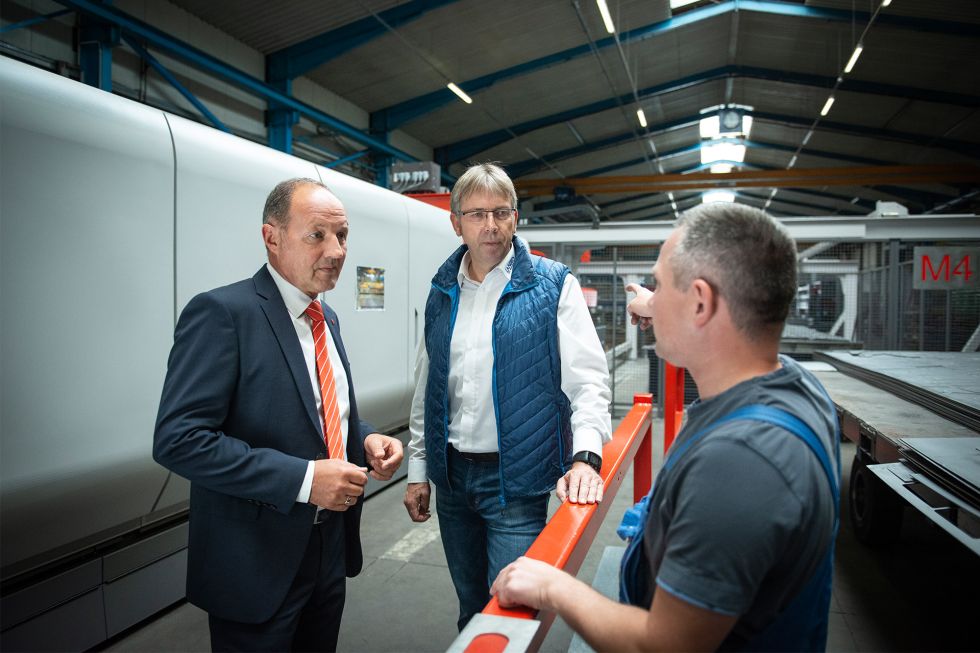 Package consisting of technology and on-site service
Another requirement Langen CNC Metalltechnik had for their ByStar Fiber solution was an automatic loading and unloading system that could handle the large-dimension parts cut by the laser cutting system. And that at any time, the huge cutting table should be able to accommodate either one large metal sheet (8 x 2.5 meters) or two standard metal sheets (for example in the 4 x 2 meter format). "With the Bytrans Cross 8025, we have a system that fulfils precisely these requirements," says Franz Langen. "The sheets are loaded onto the shuttle table in a fast and reliable process. This increases efficiency and ergonomics throughout the cutting process." However, not only the laser cutting machine is important, but also the production environment into which it is integrated. "We needed an alternative solution for the unloading of the trucks that deliver the sheet metal. Before we had the ByStar Fiber 8025, we used forklift trucks." In order to save time and effort in the future, the company invested in a special magnetic handling technology that can lift sheet metal bundles of up to 5.0 metric tons. "We can now unload 25 tons of sheet metal in just 30 to 40 minutes," the Managing Director emphasizes.
Cutting capacity increased by 35 percent
The integration of the new laser cutting solution took several months. "We formed a working group for this phase," Franz Langen recalls. This was important to ensure everyone involved was on board to help achieve the optimal result for both the staff and the company. The effort and motivation have paid off. The company currently cuts some 200 metric tons of material per week, which corresponds to 40,000 to 50,000 individual parts. "Thanks to the new fiber laser system from Bystronic, we have been able to increase our capacity by 35 percent, in spite of phasing out two CO2 laser machines, while simultaneously achieving tremendous energy savings," the Managing Director sums up.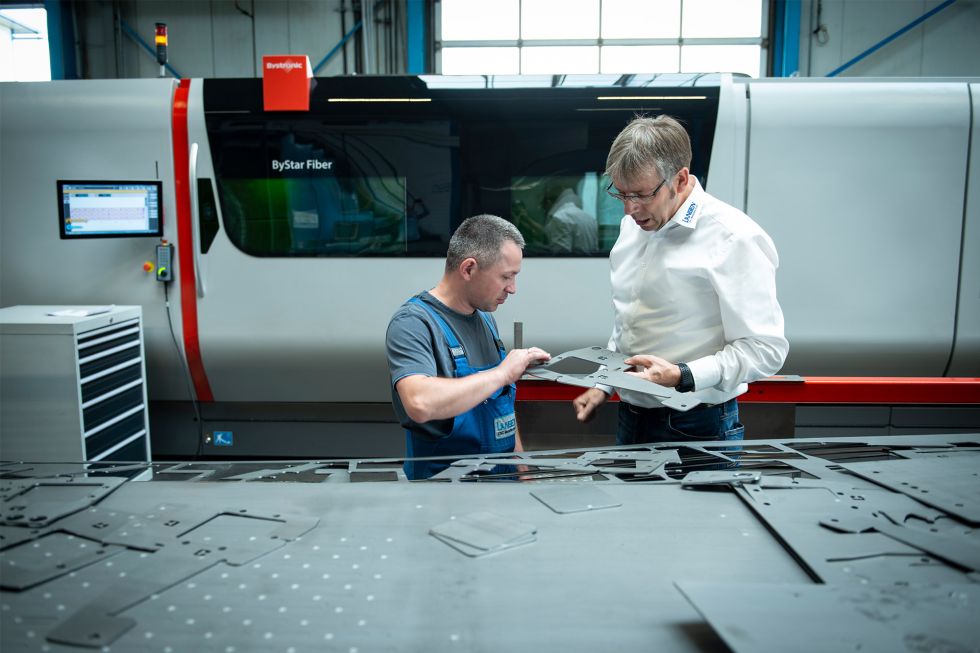 Langen CNC Metalltechnik has been manufacturing for more than 30 years. For the past 20 years, the company has relied on cutting technology from Bystronic. The company currently has some 220 employees at its 40,000 square meter site and trains apprentices in six different professions. Most of the parts they produce are used in the special machinery, vehicle, and shipbuilding industries. "We work for approximately 20 large customers, but we are also pleased to accept small jobs," the Managing Director says. "We never decline an order." In general, the company maintains sustainable, long-term business relationships. "We have been supplying to our oldest customer for almost 30 years," Franz Langen explains.