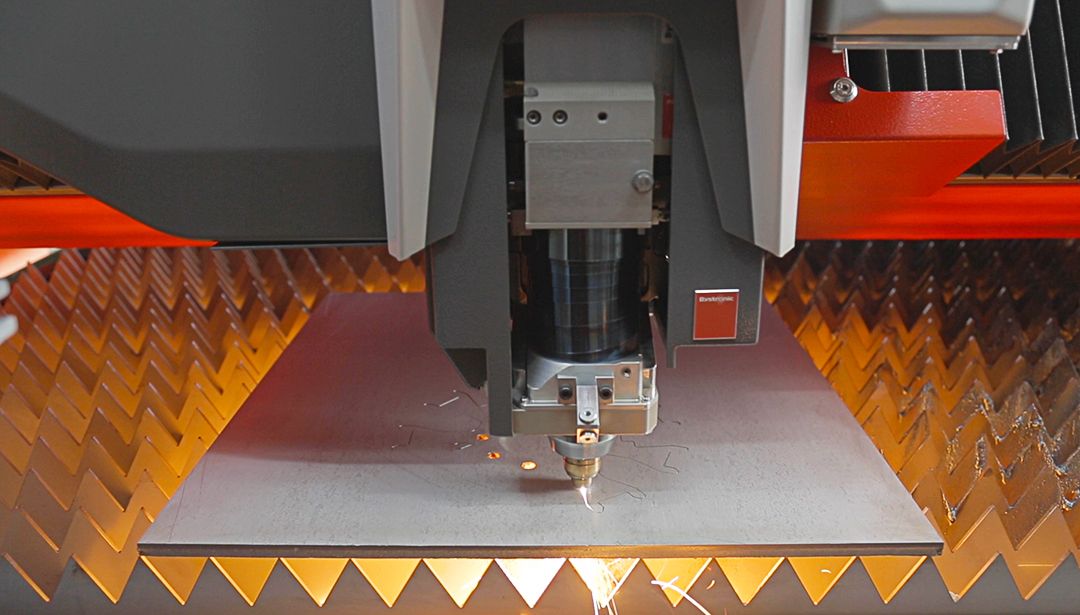 Set new benchmarks: Fiber laser cutting with 12 kilowatts
Higher speed and an expanded cutting spectrum. The ByStar Fiber from Bystronic is being enhanced with a 12 kilowatt laser and the new "BeamShaper" function. In addition, a newly designed cutting head ensures consistent cutting quality up to a sheet thickness of 30 millimeters.
To compete for cutting jobs, sheet metal workers need to manufacture quickly, flexibly, and cost-effectively. The best cost per cut part and short delivery times are decisive for achieving good production utilization. A laser cutting system with its specific components must therefore enable high processing speeds, a reliable cutting process, and low maintenance costs. Those who position themselves this way are awarded jobs and gradually increase productivity. That builds the foundation for growth.
In order to optimally support sheet metal workers amid growing competition, Bystronic is now launching the next level of power in fiber laser cutting: The ByStar Fiber with 12 kilowatts. The high-end fiber laser represents precise Bystronic technology, a stable cutting process up to the highest laser power, and a broad spectrum of applications. It is an enormous technological leap from the 3 to 10 kilowatt levels, available up until now, to the new 12 kilowatt level.
With the 12 kilowatt laser, the ByStar Fiber's cutting speeds increase up to 20 percent on average (when laser cutting with nitrogen) compared to the previously available 10 kilowatt laser source. This increases productivity throughout the range of sheet thicknesses from 3 to 30 millimeters.
Stefan Sanson, Bystronic Product Manager for Laser Cutting explains: "This laser power is of interest to companies that want to achieve higher cutting speeds with material thicknesses starting at 3 millimeters in order to increase their productivity per unit of time. The result is Swiss quality with lower costs per part."
New cutting head design for process stability
The cutting head is the core element for a stable cutting process and constantly high parts quality. This applies all the more with increasing laser power, which must be brought to the cutting material precisely and reliably. To enable this, Bystronic has consistently continued to develop the ByStar Fiber cutting head.
A slimmer design for the new cutting head increases security in the cutting process. Bystronic is also reducing the number of different components and accommodating important technical functions in the interior of the cutting head. This decreases the danger of collisions with protruding cut parts. The new design also decreases maintenance and operating costs because the integrated technology is better protected from contamination occurring from cutting dust, for example.
Optimal cooling in the cutting head ensures constantly precise cutting performance, particularly for long-lasting cutting operation with high laser power. Bystronic thus protects the lenses and cutting nozzle from high thermal stresses.
High cutting quality up to 30 millimeters
For sheet metal workers who want to expand their job volumes into the highest material thicknesses, Bystronic has developed a further innovation. The new "BeamShaper" function enables exceptional cutting quality for steel up to a sheet thickness of 30 millimeters. This function can be selected with a new purchase of a 12 kilowatt ByStar Fiber or retrofitted at a later date. "BeamShaper" allows for an ideal adjustment of the laser beam form to greater sheet thicknesses and variable sheet metal qualities. In strengths of 20 to 30 millimeters, the new function thus raises the quality of cutting edges and increases the cutting speed by up to 20 percent.