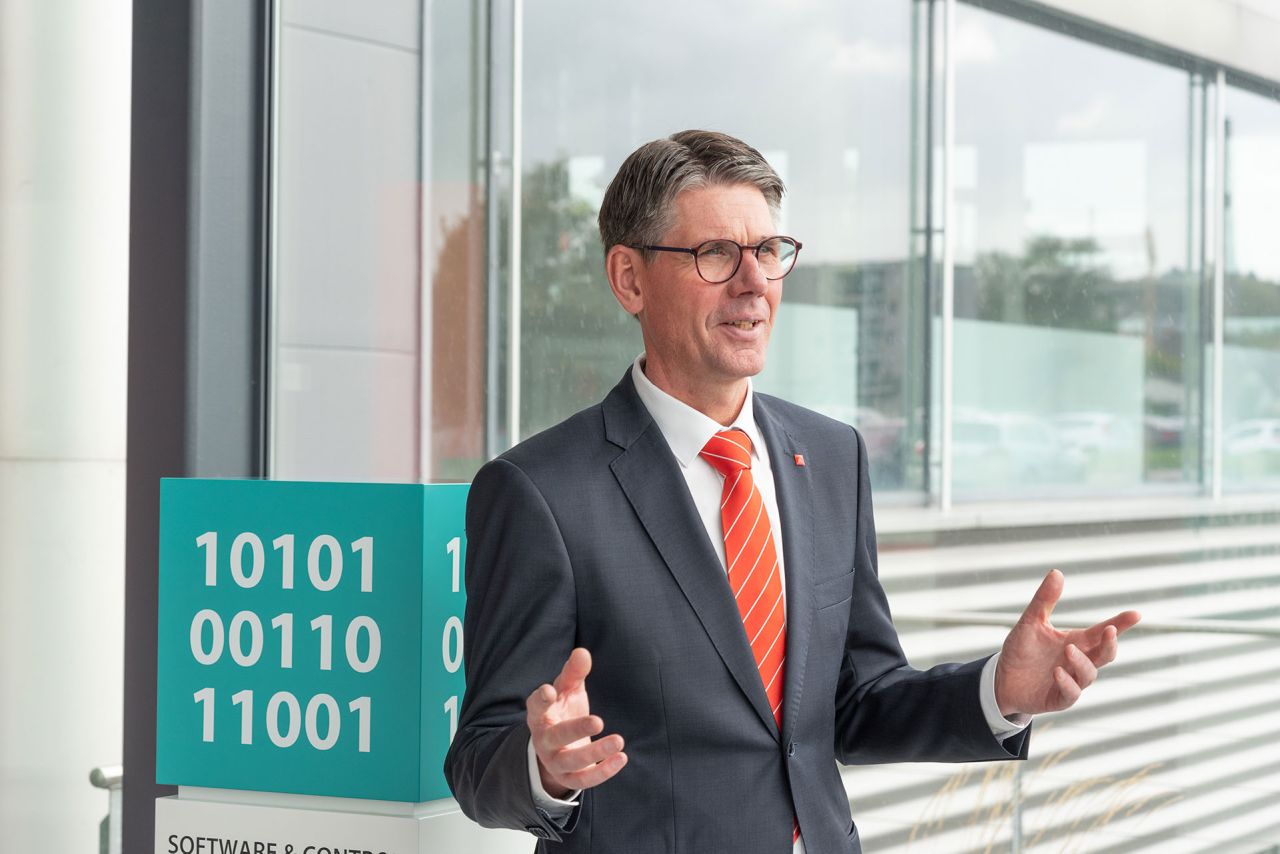 "What can we solve for sheet metal processing companies?"
This is precisely what Bystronic would like to discuss with visitors at the Blechexpo. At the exhibition, Bystronic will showcase its latest solutions in the fields of fiber laser cutting, tube processing, bending automation and software. An interview with Marius van der Hoeven, Managing Director of Bystronic Germany / Benelux.
Mr. van der Hoeven, in your opinion, which technology trends are currently having the greatest impact on the sheet metal processing sector?
We sense a growing demand among our customers for fully integrated end-to-end solutions in the field of sheet metal processing. In other words, turnkey solutions where the interaction between hardware and software is coordinated across all the processes. Against this backdrop, software is emerging as a core element. Naturally, the integrated machine systems must also operate more efficiently and reliably than ever before.
What can users accomplish with these technologies today?
A networked and automated process landscape increases the overall production efficiency. This allows users to benefit from added value: higher quality, more parts per time unit, and higher profits. What makes today's technologies so special is that they also increase production flexibility. The result is versatile automated processing even for small batches and complex sheet metal products. And it is precisely this balancing act that helps users to produce successfully in spite of the increasing cost and time pressures. And there's another important aspect: Companies that cut and bend with an excellent quality can then also integrate other value-adding processes downstream with the same quality.
How are the competitive situation and the market environment changing for sheet metal processing companies?
Our customers' business environment is currently experiencing major changes, and so are their order books. Long established industries are in a state of upheaval. And new sectors that utilize metal products are emerging. For our customers, this means shrinking batch sizes, growing cost pressure and tighter lead times. On top of all this, forecasting the order situation is becoming more difficult than ever. Faced with this challenging environment, our customers have to plan and invest on a long-term basis in order to stay ahead of their competitors, since they are also investing. As their technology and service partner, we want to sustainably accompany our customers throughout this process over the long term.
How does Bystronic support its customers in this demanding market environment?
We do not just equip our customers with technology. What we offer goes far beyond this. We continue to support our customers after we install new equipment, for example with process analyses, workshops and targeted technology training. In this way, we help our customers to substantially improve the quality of their production processes. Investments in new technologies only make sense if we develop solutions for our customers that generate a tangible added value for their business.
How should sheet metal processing companies equip themselves in the future in order to maintain their competitive edge?
High-performance cutting technologies with state-of-the-art features increase the range of applications and reduce the production costs per part. If such laser cutting systems are upgraded at the appropriate point in time with compatible automated loading and unloading solutions and integrated warehouse systems, productivity can again be increased dramatically. Similar effects can also be achieved in the field of bending. Today, we offer flexible automation solutions that allow a fast transition between manned and unmanned production whenever required. The successful integration of such solutions calls for a supplier that accompanies customers step by step. A supplier that also integrates third-party systems if required. And that is capable of developing customized solutions that meet its customers' specific requirements. In such a development process, software and services also play a key role.
To what extent will the opportunities of digitalization affect the range of services offered in the future?
Digitalization helps us to focus all our activities on our customers' requirements. This will enable us to provide our customers with even faster and more effective support. For example, with preventive maintenance, which intervenes before a machine breaks down. Or with remote maintenance solutions that enable our service specialists to connect directly to our customers whenever required. Digitalization also allows us to improve the rapid availability of spare parts.
What should visitors to the Bystronic booth at the Blechexpo absolutely not miss?
At the Blechexpo, Bystronic will present the latest generation of fiber laser cutting technology for the high-end and mid-range segments – both for sheet metal and tube processing. We will also present new bending technology. In addition, we will show our visitors how these cutting and bending systems can be integrated into a networked and integrated process landscape where software and automation ensure an optimal material and data flow. Moreover, we will showcase services that help our customers to increase the efficiency and quality of their production processes.
However, we are not only sending our machines to Stuttgart. Our Bystronic team will also be on our booth. For us, this trade fair represents a great opportunity to engage in dialogue with interested visitors. We want to discuss what else Bystronic can solve for sheet metal processing companies.